University President Rev. Peter M. Donohue, O.S.A., PhD., Announces Fall Semester to Begin On Campus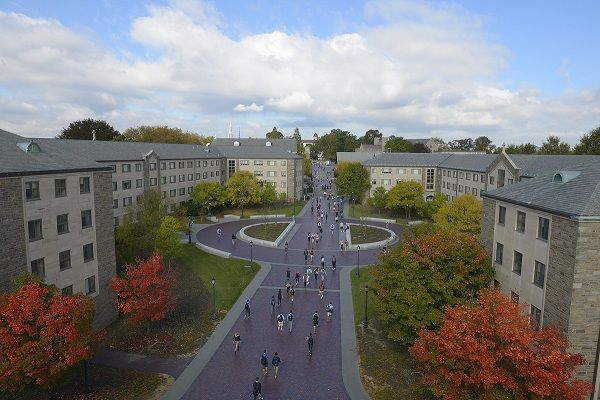 Emily Cox Co-Editor-in-Chief
June 23, 2020
In an email to the University community on Tuesday, June 23, University President Rev. Peter M. Donohue, O.S.A, PhD., announced plans for the fall semester. The approaching fall semester will be conducted in person and on-campus, but guidelines will be in place to ensure the safety of faculty, students, workers and community members.
A video featuring Father Peter was attached with the email. In the video, Father Peter offered what will become a starting point for the University; many more details are to be worked out, but a general framework was provided. He shared details regarding the fall, broken down into the following five areas: health and safety; academics; living and working on campus; events, programs and meetings; athletics and recreation.
Father Peter began by addressing health and safety precautions that will be taken upon students' return. 
"For a successful return to campus, it will require all of us working together to achieve a common goal," Father Peter said.
To achieve this goal, Father Peter announced that students will be asked to agree to "Community First: The CARITAS Commitment." This commitment reinforces that the school community must work together to prevent the novel coronavirus from affecting the student body, faculty and work staff. Students will be asked to follow social distancing guidelines, stay home when sick, wash their hands and wear a mask.  
The University will have the ability to test students and quarantine them on campus through the Student Health Center, which will also oversee contact tracing. If a student tests positive, policies and processes are in place that will allow them to continue classwork while recovering or while in quarantine.  
The academic calendar for the fall semester will be adjusted slightly to allow for possible disruptions caused by COVID-19. Classes will begin on campus on August 17 and end on November 24. Finals will occur remotely the week after Thanksgiving, and there will be no fall break. 
Undergraduate students will move in the week of August 10. Specific dates and times ill be communicated to students and families in the coming weeks. 
"We are planning on holding classes in person, and classrooms have been reassessed for physical distancing, which does present some challenges," Father Peter said in his video. "However, we are being creative and looking at a number of options: longer class days, a hybrid approach…and for students and faculty requesting accommodations, some courses will be offered 100% online." Specifics on how certain courses will be affected is forthcoming. Father Peter emphasized that In-class instruction is the plan and University's priority.
In regards to living on campus, Father Peter clarified that students will be able to live with a roommate. 
In dining halls, students will see noticeable changes beginning in August to allow for physical distancing. Plans may include assigned dining halls, limited seating and grab-and-go options. Rearranging office spaces and operational changes are also being considered by the University.
"We will be flexible," Father Peter said when addressing health care, child care and elder care. 
According to Father Peter's announcement, most fall events and programs will be "unlike years past" to allow for physical distancing and reconfiguration of spaces to allow for average class and group sizes. 
"The situation around athletics and recreation remains very fluid," Father Peter said. The University is confident that students will be able to compete in varsity sports, but fan attendance at these events is still being finalized. Club sports and intramurals are currently on hold for the fall.
Students and families will receive much more information in the coming weeks with details specific to the University's reopening in August and how the school manages to handle the fall semester. 
"There is still much work ahead, and continued patience and flexibility will be essential for our successful, albeit, different return to campus," Father Peter concluded. "If we all do our part, I know we can have an incredible fall semester."