Frischmann Receives National Science Foundation Grant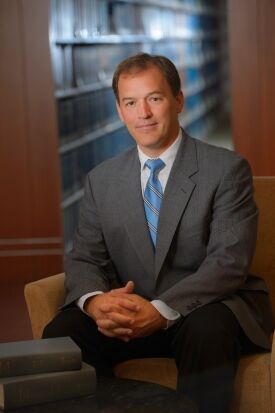 Brett Frischmann, Professor in Law, Business and Economics at the University's Charles Widger School of Law, along with co-principal investigators from the University of Pittsburgh School of Law and New York University School of Law, have been awarded a three-year, $350,000 grant from the National Science Foundation (NSF) to develop the Governing Knowledge Commons Research Coordination Network (GKC RCN).  
The goal of the project is to establish a Research Coordination Network with the intent to build a research community that will advance scientific principles. The network will provide assistance in developing empirical and theoretical insights into shared knowledge, information and data resources. Researchers from law, social and behavioral sciences, computer science and engineering will communicate, coordinate and integrate their collective research and educational studies in order to bring their variety of disciplinaries and boundaries into one central location. The project relies heavily on convergence to cross-contextual learning and generalizations in a great deal of sectors. More so, the project will schedule conferences, each organized around a specific topic, that will further aid in converging cross-disciplines. Conferences will be accompanied by workshops at various disciplinary conferences to continue expansion of research.
The RCN will converge field-building, support of research infrastructure and public spread of knowledge through various online access formats. Finally, the project will also build relationships between its funders and policy-oriented organizations.
"This project will create a strong community of scholars that will produce socially useful research for communities struggling to govern shared knowledge," Frischmann said. "It will allow participation in research by members of underrepresented groups and the results will be made available to the general public to improve scientific literacy."
The project comes at a time when the world relies almost exclusively on the internet to share and manage information, data and content. Its founders and principal investigators have acknowledged that as the amount of internet users expands, the amount of knowledge available to the public also expands. These issues lead to the need for a governed framework and privacy, which RCN aims to also provide. Frischmann and his team will use the NSF grant in order to create this needed network. 
"Brett is a leading and internationally known expert on the management of knowledge commons," Mark Alexander said, who is The Arthur J. Kania Dean of the University Charles Widger School of Law. "I have no doubt that his work on this NSF grant will provide invaluable insight into the progression of this important area and the overall pursuit of providing access to information for all."