Pope Francis Supports Same-Sex Civil Unions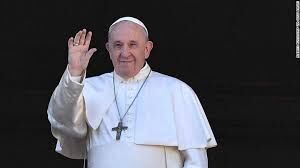 In the new documentary film "Francesco," Pope Francis, Bishop of Rome and leader of the Roman Catholic Church, expressed support for same sex civil unions.
Directed by Evgeny Afineevsky, the film debuted las Wednesday at the Rome Film Festival. The two hour film, which follows the life of Pope Francis and his work in the Church, has received global attention for one comment by the Pope.
According to NPR, Pope Francis said, "Homosexuals have a right to be a part of the family. They are children of God and have a right to a family. What we have to create is a civil union law. That way they are legally covered."
Many are pleased with Pope Francis' comments and see this as a step in the right direction for the Church. Marianne Duddy-Burke, executive director of DignityUSA, an organization representing LGBTQ Catholics, explained that this could help keep the LGBTQ community safer. 
"I'm very conscious of the tremendous impact that this could have, particularly for queer people in countries where there are no legal protections at this point, where they are very much subject to violence and to social marginalization," Duddy-Burke said to NPR. 
Singer Elton John expressed his support through an Instagram post. 
"Giving your blessing to same sex civil unions is a major step towards equality, and a foundation for which countless others can enjoy the same protections and happiness," John said. "God bless you."
However, others are upset with Pope Francis and believe that his comment will only confuse Catholics. 
"The Pope's statement clearly contradicts what has been the longstanding teaching of the church about same-sex unions," Thomas Tobin, Bishop of Providence, RI, said to The New York Times.
This is not the first time that Pope Francis has made positive comments about the gay community. According to The Times, the Pope responded, "Who am I to judge?" when asked about a gay priest in 2013. In 2018, Pope Francis said, "God made you this way and loves you this way, and the Pope loves you this way" to Juan Carlos Cruz, a Chilean sexual abuse survivor and gay person featured in the documentary. 
Although these comments do not mean that the Church will be changing its teachings on the LGBTQ community, the Pope's comments are influential. Francis DeBernardo, executive director of New Ways Ministry, an organization of LGBT Catholics, explains that Pope Francis' statement is important.
"A pope sets the tone for the Church, and what he is doing is signaling to bishops and Church leaders that a welcome for gay and lesbian couples has to go forward," DeBernardo said to The Times.