Public Policy Society Hosts "Nine Days and Counting with The New York Times' Jonathan Martin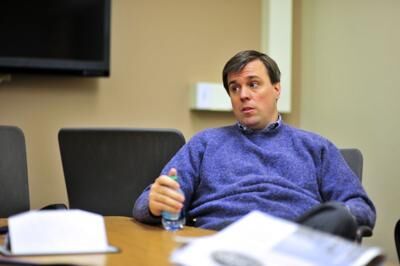 Jack Birle Staff Writer
November 4, 2020
On Monday Oct. 26, the University's Public Policy Society hosted "Nine Days and Counting," a discussion related to the upcoming presidential election. It featured Jonathan Martin, a national political correspondent for The New York Times, and was moderated by Jonathan Grella, an alumnus of the College of Liberal Arts and Sciences. 
The event was held virtually due to coronavirus restrictions in place. Martin joined the event from New Orleans, while on the road covering campaign rallies.
Several issues of the upcoming presidential election were discussed. COVID-19's effect on campaigns was the first topic.
Martin spoke in-depth about the different approaches the Trump and Biden campaigns have taken toward coronavirus precautions at rallies.
"You have to check with the [Biden] campaign and say 'What's the access?' because the Biden campaign, most of their events, is only doing a press pool," Martin said. "Trump is going forward…They are open press. You can watch them on TV…The challenge with covering Trump events is he doesn't enforce mask wearing, he doesn't enforce distancing."
Martin observed that the bigger issue with Biden events is press access, whereas with Trump events, the larger issue is coronavirus risk.
Grella also asked about the difference between the feel of campaigns on social media as compared to on the ground.
"Much different, I think the average American doesn't follow politics that closely," Martin said. "They don't follow every up and down."
Later in the discussion, Grella asked about potential demographic changes playing a part in the outcome of upcoming elections. 
Martin expressed his belief that changes to the electoral map because of demographics have already begun to happen.
"Georgia and Texas are here," Martin said. "I think Georgia and Texas are competitive states, and they are going to be very close on election night – they are the way Virginia, North Carolina and Colorado were a decade ago. If those states are in play, then that changes things dramatically in this country."
In terms of which states to look for on election night for early indications of the outcome of the race, Martin noted a few states.
"I think Georgia, North Carolina and Florida, obviously Atlantic coast states, will be interesting states, and if Biden is winning those states, we will kind of know where the night is going," Martin said. "I would keep an eye on those eastern 'sun belt' states."