Pope Francis Names Archbisop of Chicago Wilton Gregory the First African American Cardinal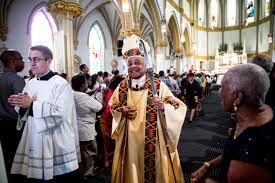 Molly Mook Staff Writer
November 4, 2020
Overlooking St. Peter's Square on Sunday, Oct. 25, Pope Francis made a surprise announcement about the appointment of 13 new cardinals around the world. Among them is Archbishop Wilton Gregory, who will be the first African American cardinal. 
Starting his work in the Roman Catholic Church as a priest for the Archdiocese of Chicago in 1973, Gregory has since held many high-profile positions within the Catholic Church, and he is currently the archbishop of Washington D.C. He has made history in the past by becoming the first African American to be President of the U.S. Conference of Catholic Bishops in 2001 and the first African American archbishop of Washington D.C. After being elected president of the conference, he hoped Black people, "lukewarm in their faith," would be inspired to renew their commitment to the Church. 
There are currently about 37,000 Catholic priests in the United States, and only about 250 of them are African American, according to the U.S. Conference of Catholic Bishops. The Pew Research Center shows that about five percent of Black American adults are Catholic. 
Shannen Dee Williams, Assistant Professor of History at the University, told The New York Times that Black Catholics were excluded from seminaries and religious orders for centuries. She said that Archbishop Gregory's appointment is the "culmination of a longstanding Black Catholic freedom struggle against racism, slavery, segregation and exclusion within the U.S. Catholic Church." 
Gregory's appointment to the Church's highest governing body is especially important in a year where demands for and debates about racial justice have been at the forefront of the nation. He has been outspoken in urging church leaders to better race relations, sees racism as a "pro-life" issue and emphasizes the importance of having more diverse representation in church positions. He believes that it is vital for young Black Catholics to see church leaders who look like them.
Archbishop José H. Gomez, President of the United States Conference of Catholic Bishops, issued a statement and said, "By naming Archbishop Wilton Gregory as a Cardinal, Pope Francis is sending a powerful message of hope and inclusion to the Church in the United States."
In addition to being a leader on the issue of race, Gregory has also been involved with the Church's response to its sexual abuse crisis. His appointment as Archbishop of Washington D.C. in 2019 was a breath of fresh air for the community, as the previous two, Theodore McCarrick and Donald Wuerl, had been involved in the sexual abuse scandals.
During Gregory's tenure, a "Charter for the Protection of Children and Young People," was adopted by bishops in order to focus on the growing scandal. 
At a "Theology on Tap" meeting last year, Gregory told a group of young adult Catholics, "You cannot be a Catholic and sit on the sidelines." 
"To be a member of the Church means you've got to get in and get your hands dirty in the mix of the whole arena of faith from what we believe and profess to how we live and treat one another," he said.
Gregory's other views are similar to those of Pope Francis. One of the Pope's major goals has been to foster greater acceptance of marginalized individuals in the church. Gregory has also shown his support for many vulnerable groups, calling on Congress to reform the country's immigration system and backing the LGBTQ+ community. 
Nine of the 13 new cardinals, including Gregory, are under 80 years old, meaning that they will likely be eligible to vote on the Pope's successor. These new cardinals have similar ideas and priorities to Pope Francis, which will likely result in a similar successor.
The installation ceremony for the 13 new cardinals will take place on Nov. 28 at the Vatican. Given the current coronavirus pandemic, travel restrictions and new constraints in Italy, the details for the ceremony are still unknown. It is unsure whether all of the bishops will be able to attend. 
"With a very grateful and humble heart, "I thank Pope Francis for this appointment which will allow me to work more closely with him in caring for Christ's Church," Gregory said in a statement.