Noel B Answering: Interview with TikTok's Noel Doherty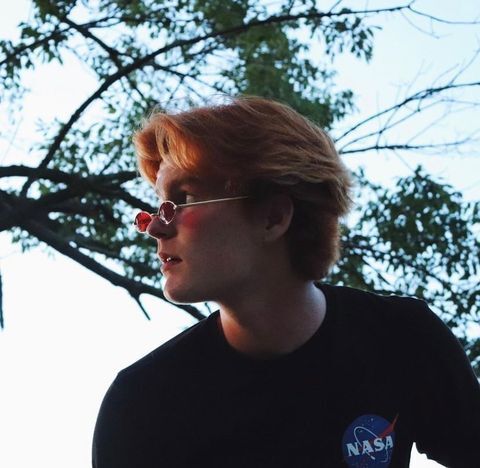 Villanovans are no strangers to viral TikTok content creators, like Jordan McMeans and Ally Jones. However, freshman and West Chester, PA native, Noel Doherty, has recently taken the app by storm with a total of more than 112,000 followers across his three popular accounts. 
"I would say the reason why I do it is to make people laugh, and the best compliment and favorite compliment to receive is that they enjoyed my video and that it made them happy," Doherty said. 
On his most followed page @NoelBDoherty, Doherty posts chaotic board game bits, house tours, and sketches inspired by Joe Sabia's "73 Questions" for Vogue for his nearly 66,000 fans. Created just three weeks ago, Doherty's third account, @NoelBAskin, features interviews of fellow Villanova students inspired by both "Billy on the Streets" with Billy Eichner and "What's Poppin?" with Davis Burleson. In its first sixteen days, Doherty's account has already gained 50,000 followers, becoming his second most popular account. 
Obvious in every video is Doherty's witty and perfect comedic timing, two attributes which make his content natural and off the cuff, only adding to the hilarity of these sidewalk interactions. However, it was not one of these spontaneously humorous interviews or perfectly scripted skits which initially garnered fame for the comedian. Rather, Doherty shared how, during his sophomore year of high school, he experienced his first bursts of popularity on TikTok. 
"The first thing I went viral for was quoting the Bee Movie," Doherty said. 
It is no wonder Doherty has achieved this level of success, as he has been training for this moment for many years now. Just like John Mulaney, his favorite comedian, who tests his new standup material in small venues before filming his popular comedy specials, Doherty has been practicing and shaping his own comedic style for years through his three different Twitter accounts, a YouTube channel and an Instagram meme page. However, Doherty has found TikTok to be the best place for his style of humor and self-expression. 
"When I was a child, I thought I'd be a YouTuber in college," Doherty said. "But now, I am a TikToker in college. I've always been on my way here. I'm living my dream now."
Even so, the extent of Doherty's TikTok fame was somewhat of a surprise, as he joined the app before any of his friends and did so solely for his own entertainment.
"It was just for me," Doherty said. "It was really just for me. And I met a few people on the app and now we are fun little internet friends."
That being said, Doherty has also incorporated his real life friends and family into his video content. For example, his best friends Maeve Bonass and Maggie Elder are often featured in his videos. Elder was Doherty's first interviewer and camera woman for his "73 Questions" series, while Bonass co-stars in Doherty's "Guess Who?" games with intangible characteristics which later developed into one of his most popular skits. 
"From there, we started throwing in other stuff: using board games, decorations and sunglasses as props for videos," Doherty said. "The theme of those is chaos and random core. The randomness is funny in that way."
Other moments of fame for Doherty include the iconic microwave debate with his sister, Fiona Doherty, who is a junior at Villanova. Over this past summer, the two siblings garnered the attention of more than five million viewers, including the official accounts of Charlie Puth, Whirlpool, Tinder, Colleen Ballinger (aka. Miranda Sings) and even the Pittsburgh Steelers. Despite the popularity this provided for Doherty, his talent specifically shines through in the videos for which he puts in hard work, brainstorming ideas and writing his own material, a sign of a true standup comedian. In terms of timing, Doherty shares that total production of his videos can take several hours. 
"The gameboard skits will take a few hours," Doherty said.
But the energy is worth it, as Doherty and his collaborators, usually consisting of family and friends, always achieve the "golden take." 
In addition to meeting new friends online and having fun with his family and home friends, filming interviews on campus has also allowed Doherty to meet new people and make many friends. For example, his current most viral TikTok is his first interview on the account @noelbaskin featuring sophomore Rosa Marfia. In the video, the then strangers converse about their Halloween costume plans, learning that ironically, as gingers, they are both dressing as red heads for the holiday. Despite the quick interaction, the two are now good friends. Coincidentally walking by at the time of the interview, Marfia was able to discuss what it has been like being the star of such a viral TikTok. 
"People from my high school and family have sent it to me and a Snapchat tabloid posted it on the discover page with the title 'Ginger on Ginger Crime,'" Marfia said. "My ASL professor played it in class for us and was really appreciative of the captions." 
Doherty seems to know everyone who passes by as he walks through campus, usually wearing a stylish outfit, but he always offers a warm hello. It is no surprise that Doherty is a kind individual who greatly values inclusivity, as his videos often display these attributes, Doherty even wrote his college admission essay on the subject. 
"I always put the captions on for my videos so I am really glad that people appreciate that," Doherty said. 
As a thoughtful and funny individual, the future is bright for Doherty. Currently, he is working as a content creator for the new app, "Whatifi," which is an interactive storytelling platform, making passive viewers into active participants in the storylines of the videos they watch.
Active in his own TikTok content creation, Doherty expressed his gratitude for his support system of friends and family as they help him film, offer feedback, listen to his ideas and star alongside him in many of his videos. 
"I am really appreciative of my friends and family because I turn to them for advice every day, and they are so willing to help out," Doherty said.