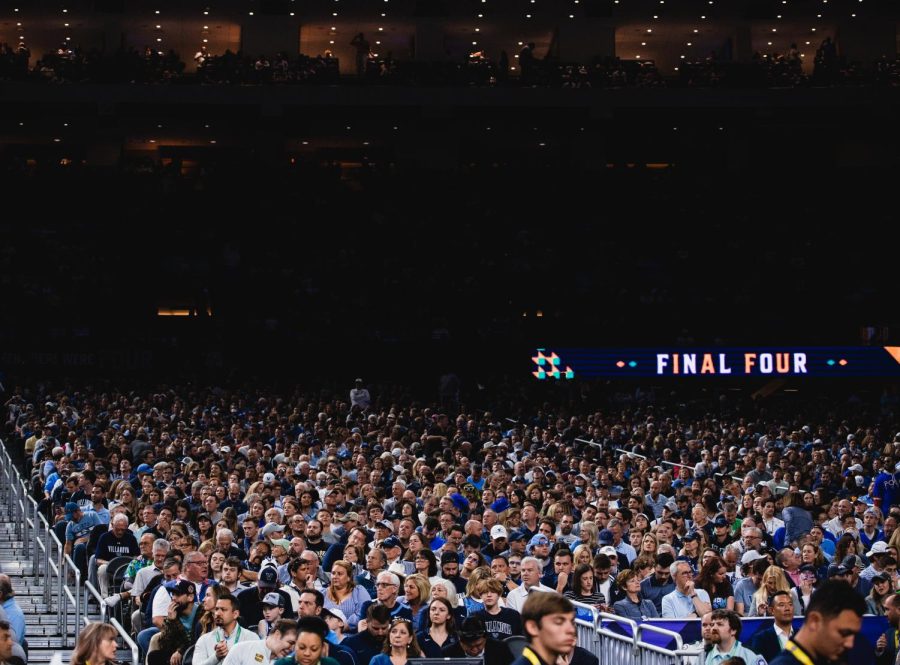 Courtesy of Olivia Pasquale/Villanovan Photography
Without a doubt, nothing makes someone more proud to be a Wildcat than a March Madness run like this year. Though we did not get the result we wanted, in the end, Villanovans should take pride in the performance of this year's Big East Champions in making it to the Final Four.
After Villanova's astounding victory over Houston in the Elite Eight, members of Nova Nation poured out of the Game Watch in the Villanova Room, gathering around the Oreo. Full of passion and pride, many students immediately whipped out their phones. Through the haze of music, megaphones and collegiate screaming, they were somehow able to open up the Nova Athletics Student Tickets App and enter the lottery, with hopes of winning their own tickets to the Final Four.
When the lottery results came out on Sunday, Mar. 27, the lucky winners naturally jumped for joy, while those not so fortunate decided their lives were over because obviously, the world was out to get them. However, even for the winners, some smiles quickly turned to frowns and furrowed brows as they began to plan their trip.
The price of the student ticket for lottery winners was only $40 for the semifinal game, with a complimentary ticket to the championship game, should Villanova advance. While the cost of the ticket is not problematic, the transportation costs to get to New Orleans was hefty.
"I was supposed to go with my family, but the day after we bought our tickets to the game, flights to NOLA were sold out so fast that we weren't able to get any," junior Jade Singh said.
Singh, like many others, was not able to use her ticket because of flights being completely booked or too expensive. Even though Villanova ended up offering a round-trip flight for students from Philadelphia to New Orleans for $750 (relatively cheap compared to available flights for the weekend), it was too little too late for many like Singh.
"I wish the flight option for students was confirmed sooner," Singh said.
"If I had known it was going to be available, I could have possibly kept my ticket and went. I feel like in the future, they should plan ahead to have this option if we get close to the Final Four so that students are aware of transportation options since traveling there seems to be harder than getting a ticket."
For others who were able to make the trip and secured a spot on the Villanova-chartered plane, like freshman Jack Hobart, the whole process was still a hassle and undoubtedly expensive.
"I paid $46 for the ticket, $760 for the Nova flight and $1,200 for the first two hotel nights," Hobart said.
"I hadn't booked the last two nights in case we lost. However, I was with a few people in that hotel room, so I didn't have to pay the full $1,200."
Even with sharing a hotel room and getting lucky enough to secure a spot on the Villanova round-trip flight, the cost of the journey to New Orleans seemed to be at least a couple thousand dollars for most.
The cost of this trip alone makes it very unattainable for many students, creating a situation where only those who can afford it are allowed to go and support the team.
Beyond this, the whole hassle of booking flights and the seemingly last-minute limited student plane makes one question how this situation could be better handled in the future.
In future years, Nova Athletics Student Tickets should better anticipate the travel cost surges and complications that arise in the wake of March Madness, actively planning travel options ahead and working to lower the cost of student flights as much as they did with the tickets.
Furthermore, as hotels and other lodgings near the game venue skyrocketed in price anticipating a surge in demand, students should be allotted the opportunity to purchase affordable hotel rooms (shared with other students to reduce costs).  Proactive changes would undeniably allow more students to attend.
Seeing footage of the plane headed for NOLA full of Villanovans on The Nationer Instagram, full of excitement and school spirit, is an indication of how integral the Nova Nation is to the Wildcat's success, as well as the degree to which we students love our team.
We need to make a better effort next year to get students and fans out there with less stress, money and confusion to make the presence of Nova Nation known on a national stage.