Moore Continues Impact From The Sidelines
NEW ORLEANS— As the lights went down and the starting lineups for the Final Four were announced, Villanova head coach Jay Wright sat at the end of the bench with his arm around Justin Moore, consoling the junior guard. Just one week ago, Moore suffered a torn achilles in the team's Elite Eight game, ending his season just minutes before earning a trip to the Final Four.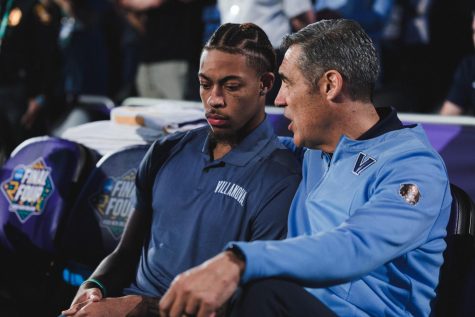 Even though his season was over, Moore has made sure to stay involved and engaged with his team. After returning to Villanova on Sunday to get his MRI results, Moore underwent surgery on Monday morning. Despite being down and out in recovery, Moore continued to support his teammates, namely Chris Arcidiacono and Bryan Antoine, the two attempting to replace Moore in the lineup. 
"Really been communicating with them all season," Moore said of the two junior guards. "It's not just because I went down. I mean, of course they have to step up, the whole team has to step up. All year long, we've known how capable they are and in practice we've seen how much they're getting better. Coach is always talking about how he could put you in at any moment and be ready to play. They're ready for it." 
Moore had been the team's second leading scorer, best defender, and a vocal leader all season. Averaging 34.4 minutes and 14.8 points per game, Moore's absence left the rest of the roster with some big shoes to fill. With Wright's rotation already limited to six consistent contributors, Arcidiacono and Antoine, both averaging less than 10 minutes per game, were expected to step up. 
While many people counted the Wildcats out in Moore's absence, he, his teammates, and Wright remained confident throughout the week. 
"We don't see it as, like — yes, it's very tough that we lost Justin and it does hurt a little bit, but these guys are ready," graduate forward Jermaine Samuels said on Thursday. "The same guys put in the same work as Justin all year. A lot of people don't see the hours they put in after the games, before the games, and they're ready to go and they're ready to contribute."
But when it came game time on Saturday night, Arcidiacono played two minutes, Antoine 19, and it was the five starters who made up the bulk of the missing minutes. Gillespie and Daniels played 39 a piece, only exiting the game in the final minute, while Samuels, Brandon Slater and Eric Dixon all played at least 30. 
Even with the increased minutes, and offensive production from Slater, Gillespie, and Daniels, Moore's absence was still too much for the team to overcome in an 81-65 loss to Kansas. 
"Maybe the start of the game," Wright said when asked where they missed Moore the most. "Just we're not — we know what we're doing when he's in there, we know our rotation. At the beginning of the game, when a team gets it going like that on the perimeter we usually go smaller. We bring Caleb off the bench. It's things like that. You've got to give them credit in recognizing that and that we didn't have the ability to do that."
Regardless of the end result, Moore's impact extended beyond the court, and even with him watching from the sidelines, his presence was still felt while the team prepared throughout the week. 
"He (Moore) has been a great leader for us this year, vocally, leading by example. So I think just having him around is really good for us," graduate guard Collin Gillespie said on Thursday. "I think he's encouraging our other guys who are going to step into bigger roles. And it's more than just basketball for us; he's a teammate and a brother first. And we're always just trying to make sure he's all right."
Last weekend, his teammates rallied around him when he went down, but in New Orleans, it was Moore's turn to console heartbroken teammates. As Gillespie and Samuels exited the floor for the last time in the final seconds of the loss, Moore, at the end of the bench with his scooter at his side, was only focused on consoling Gillespie and Samuels.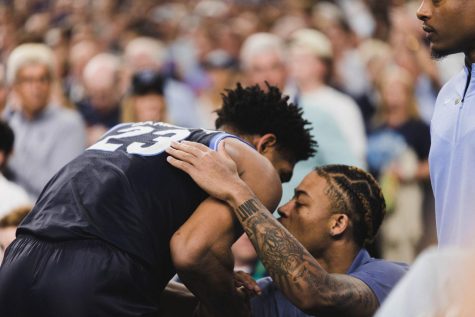 The visual was a true testament to the family-like culture that Wright fosters at Villanova, a culture that Moore will continue through his recovery and down the road when he returns to the court. 
"It's a family here," Moore said. "It's a brotherhood. We've been through so many battles this year and our journey has been very special."