Offensive report: Replacing Westbrook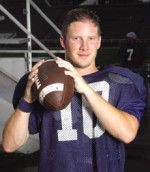 The toughest challenge Villanova's offense faces this season is filling the large gap left by All-American running back Brian Westbrook. The tailback, drafted by the Philadelphia Eagles this past spring, entered the record books last fall for the most all-purpose yards in collegiate history with 9,512. Coupled with the graduation of the Wildcat's superb passing threat in Murle Sango, the offense certainly has its work cut out in their 2002 campaign.
"That's been the question of the year," head coach Andy Talley explained. "How we're going to replace Westbrook, and the answer to that is he's just such a great player, he did so many things for us, it's pretty impossible to replace him, but we have some fine young players and veterans that can redistribute the ball offensively."
The leadership roles have been handed down to the new veterans of the squad and with these seniors in charge on the field 'Nova's offense has a new look. No longer allowed to rely on Westbrook's consistency with the ball, the offense has opened up. More players are now going to see the ball, and as a result, teams will now have a harder time defending the 'Cats without just one go-to man.
Taking the reigns this fall is third generation Wildcat quarterback Brett Gordan. Last fall he entered the end zone 25 times with 13 interceptions and is currently fourth on the school's all-time passing list with 5,349 yds, going 262-of-382 for 3,017 yds. Talley is confident that the senior's competitive nature and skill will be a major catalyst to the 'Cats success on the field in 2002.
"[Gordan is] one of the top quarterbacks in the country," Talley said. "If he were bigger, he'd be a pro. He's a great leader, makes phenomenal line calls, a courageous dude, a great passer, and he'll just cut you up if you are not in the right D."
When asked how he handles the pressure in the wake of Westbrook's departure, the senior remains optimistic about the team's abilities as well as his own.
"I try not to put any extra pressure on myself," Gordan said. "As on offensive unit we have to pull it all together and step up to make up for the loss of so much offense."
Talley's confidence with his offense does not end with Gordan, but is only boosted by the play of Cross at fullback. Calling Cross a warrior on the field, Talley is looking for much of the leadership and poise to come from the four-year starter.
"[Cross] quietly does so many things for us," Talley explained. "He catches out of backfield, [is a] good blocker, a great team player with strong character on the football field."
Cross rushed 35 times for 151 yds. in 2001 while connecting on 22 receptions for 31 yards and four touch downs. 'Nova is counting on the senior's diverse talent in the running, blocking and receiving game to lift the men to the top of the Atlantic 10 polls.
Moving to the wide receivers, Talley explains that experience, talent and confidence working alongside the determination of White and Brown are the core reasons he is secure in their presence and leadership on the field.
"He [White] is our best receiver and is among the best receiver in the league" Talley said. "Mr.Clutch, catching the ball in crowds."
Working with White at 'Nova's receiving end is fellow classmate Brown.
"Brown is going to have a phenomenal season," Talley exemplified. "[He] is a great person, a hard worker with great speed, and he overcame two ACL surgeries. If he plays the way he has been playing in preseason, we'll put two of the best receivers in the Atlantic-10 on the field at the same time."
While the vacancy left by Westbrook at running is diminished slightly by the experience and skill of the new offensive veteran leaders, sophomore Terry Butler, expected to start at tailback, will still have very big shoes to fill.
"It's an honor being able to back up such a high caliber player," Butler said. "[I am] just taking it easy and just going in ready to play my part. Catch first downs, make plays out of backfield and basically just play my part in such a high powered offense. Now that he's gone, a lot of people can get more touches, got some fifth year seniors who can make some big plays, spread the ball around a lot more."
Butler found himself backing up the heralded running back in the middle of last season and completed 10 carries for 59 yds. According to Talley, the near-rookie's lack of time on the field is offset by his speed and movement.
"He [Butler] is running the ball well," Tally said. "I think he is going to be a really fine tailback in the A-10."
Waiting in the wings as back up running back is junior Henry Ridley who had 27 carries for 106 yds, whose experience combined with his multifaceted abilities on the field may earn him playing time this season.
One place where the 'Cats are not lacking in experience is with starter Matt Chila at the tight end spot. The junior's 15 receptions for 136 yds. and three touchdowns earned him Second Team All-Atlantic 10 honors even while injury prone last fall. Talley explains how Chila's quick throws underneath and his ability to make himself an easy target for the quarterback will prove to be important assets to 'Nova's passing threat.
Perhaps the area hardest hit by graduation was the offensive line, losing three starters last May. The loss of All-American tackle Eamonn Allen and Third-Team Altlantic 10 center Robert Richardson has left Talley with the task of mixing the line up a bit to maintain balance.
After observing summer play, Talley now is more confident that the men will be ready to gel when the time comes.
Of those who are returning starters, Senior Sean McCarthy will be moving from left guard to left tackle, while junior Jason Rogers will be at left guard. Sophomore Mike Finn who started three games for the injured Richardson last season, will return to center.
Junior Mike Roseman, making the switch from defense this year, will start at right tackle, while senior Chuck Tornetta is expected to start at right guard.
"We lost three guys last year, so a lot of guys are putting pressure on us, but we think we can come back and be just as good if not better than last year," McCarthy said. "We need lots of guys to fill in right away. We trying to get better working as a team and unit because this will be first year we play together as a group."
The other problematic area of the 'Cats offense is their kicking game following the graduation of four-year starters Casey Hannon at placekicking and Chris Birch punting. Redshirt freshmen Adam James out of Harrison High School in Marietta, Ga. where he was first team All-State punter in 2000, will take over both duties.
"I am concerned about kicking," Tally said. "One guy doing both and a rookie is a problem. He is gonna have his day, but he has talent. I think his punting will be adequate."
With a mix of both old and new, the offensive squad is prepared for battle in the Atlantic 10 and will only get stronger the more playing time each member sees.
"We're just about there," Gordan said. "All throughout camp when it's hot, we just keep working hard-that's the most encouraging thing is that we have a group of guys that just love to be out there and really work hard. It's gonna result in some positive things out on the field."
According to the 'Cats losing Westbrook was definitely a detour, but should not prove to be a permanent roadblock for 'Nova's offense in 2002.