McCourt more than memoirs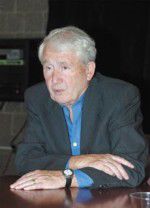 To the world, Frank McCourt is a Pulitzer-winning writer who sold millions of copies of his memoirs.
But in his own humble way, he just wants to be known as a teacher.
That contrast and the way his writings have turned McCourt from public school teacher into the most celebrated Irish author in recent history were the subject of an exclusive interview with The Villanovan hours before his address.
"First of all, you get money," he said. "I was living on pennies on my princely teacher's pension."
Fame has also been a part of the bargain. McCourt easily rattles off a list of celebrities he's met since the publication of "Angela's Ashes" in 1996, and a few – Whitney Houston and Julia Roberts among them – that he almost met.
"One day I'm going to meet Whitney Houston," he vowed.
More important than how writing the book changed him, however, is what writing the book meant to him.
"I did what I wanted to do," McCourt said simply. "My lifelong dream was to write that book. It was a fulfillment, a dream come true. I could have died the day after it was published and been happy."
Though he visits Ireland often – McCourt has traveled to the island four or five times a year since "Angela's Ashes" was published – always for business. "You know, I'm a big shot now," he confessed with a modest chuckle.
"Someday I'm going to go back just for the sake of going back."
The depictions of growing up in Ireland as a child in County Limerick are far from flattering, as Mc-Court's tale of poverty, sickness and a father's rampant alcoholism paint a dismal picture of Ireland. Yet the book was very well received in the country, staying on the bestseller list for over a year and drawing thousands of Limerickmen with their children to a casting call for extras when the movie of "Angela's Ashes" was being produced.
Those who resent the bald-faced truth don't seem to bother McCourt, who can fall back on his family for support. "My brothers and I were all in the same boat together," he said.
"There's a certain knowledge that only we had. When someone takes a snipe at me, [my brothers] know the truth … of what it's like to be bullied by the state, schoolmasters and the church."
World War II-era Ireland was also a different country, he said.
"It was bleak, a third-world country," McCourt said. "It had just emerged from British rule … people were leaving in droves."
One of the most striking things about McCourt's vivid depictions is that he was so young when they occurred. "Angela's Ashes" covers the first 20 years of his life, yet McCourt claims he had no trouble recalling the various events in the book.
"I had an uncluttered childhood," McCourt said. "Our memories were developed because we had to memorize everything … it was a skill you had to learn."
Because he still considers himself a teacher before anything else, being recognized as an international sensation is unusual to McCourt in many ways. There is one aspect of his fame he knows he never would have experienced without writing his memoirs – book signings.
"Nobody ever stops a teacher and asks for an autograph," he said with a smile. "You do that to an English teacher and they'll drop dead."