"Tempest" blows magic into St. Mary's Auditorium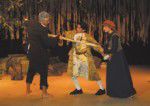 "Graves at my command Have waked their sleepers, oped, and let 'em forth By my so potent Art. But this rough magic I here abjure…
I'll break my staff, Bury it certain fathoms in the earth, And deeper than did ever plummet sound I'll drown my book."
So speaks Prospero in one of the famous soliloquies in Shakespeare's "The Tempest," the premiere production of Villanova Student Theatre's season.
The story of "The Tempest" opens with the fulfillment of Prospero's 12-year vendetta against his treacherous brother Antonio, who deposed Prospero, King of Milan, and cast him and his small daughter out to sea to face a watery death. Only by "Providence divine" and a piteous executioner do Prospero and Miranda land on an island, uninhabited by humans but rich with spirits and mythical creatures. There, Prospero studies and learns "the art," eventually becoming the sole ruler of the gods and spirits. With his faithful servant Ariel and the slave-monster Caliban, he and Miranda reside happily in the wondrous world of the island until the start of the play. Then Prospero commands the shipwreck and the peripatetic day with his betrayers ensues.
Directors Dan Gallagher and Valerie Giacobbe situate VST's "Tempest" off the coast of Ireland in the late 18th century, suggesting a corollary of the play with Celtic stories about the confrontation between indigenous magic and power of Ireland against the foreign attempts to control and subordinate it. Gallagher and Giacobbe's gorgeous lighting design accentuates the minimalist set composed of trees and peat moss and intuits a lush density rarely achieved on the technically-bereft St. Mary's stage.
"The Tempest" cast is a dynamic mix of veterans and new faces. Many of the principal characters, such as Prospero (Michael Neff), Caliban (Elizabeth Hennessey), and Ferdinand (James Curcione) are seniors with impressive lists of Villanova stage credits, while Ariel (sophomore Lisa Eve D'Annuzio) and Miranda (freshman Amanda MacLachlan) make formidable debuts in their respective roles.
"The Tempest" turned out to be Shakespeare's final play and several scholars believe it to be his self-reflexive adieu to the stage, evidenced by the linguistic interplay of "magic" and "art" and several of Prospero's soliloquies that reference the potency, but also the tribulations, of one who holds the genius of art. The "Tempest" cast provides an earnest and honest encounter with Shakespeare's brilliant but elusive text. The inclusion of Gaelic spells and Celtic music provides the audience with refreshing respite from the challenge of Shakespearean language, while the fast-paced and enthusiastic ensemble make Villanova Student Theatre's "The Tempest" a sound and enjoyable production.
"The Tempest" runs Nov. 1 and 2 at 8 p.m. and Nov. 3 at 4 p.m. in St. Mary's Auditorium. For further information or to purchase tickets, visit students.villanova.edu/VST.