Women ousted on penalty kicks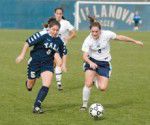 The women's soccer season, one that established several milestones for the program, came to an abrupt end last Friday at the Villanova Soccer Complex with a shocking overtime loss to Yale.
The Wildcats, ranked 20th nationally, were the host and top seed in the NCAA Tournament Regional held at 'Nova, but they were unable to conquer the inferior Bulldogs from the Ivy League, losing a 0-0 game in a penalty kick shootout.
Chrissy Dolan, 'Nova's standout junior goalkeeper, pitched a shutout through regulation and two overtimes, but was unable to carry the 'Cats into the second round, allowing four consecutive goals on penalty kicks.
Dolan saved nine shots on the day, while Yale goalkeeper Lindsay Sabel stopped 13. Her save of Janessa Jeltema's penalty kick sealed the improbable victory.
Yale's Lee Anne Jasper was credited with the game-winning score.
The Bulldogs advanced to play the Nebraska Cornhuskers on Sunday but bowed out in round two 1-0.
Senior captain Jennifer Carrigan, whose standout career ended on Friday, described the mood of the team following the upset.
"Everyone was disappointed," Carrigan said. "We did not expect our season to end on Friday. We were the superior team, but we just could not get the ball in the back of the net."
The loss, although disappointing, should not overshadow the accomplishments of head coach Ann Clifton's squad this season.
The 'Cats tied the school record for wins with 14, earned their highest ever national ranking at 14, won their first ever Big East Tournament game and for the first time ever were selected as an NCAA Tournament Regional host.
There were also several individual accomplishments by the Wildcats.
"Although it ended earlier than expected, I will have good memories of my career and of this season," Carrigan said. "We only had three losses and we had a great time together."
Do not think that the Yale loss will put a damper on the women's soccer program. Clifton's team remains one of the best on campus, and possesses one of the brightest futures on the national women's soccer scene.
"There is a very bright future here," Carrigan said. "This program has great recruits coming in and now there is good experience on the team. The players also have a solid work ethic."
Next year Villanova will be more than capable of avenging this year's postseason shortcomings. And those shortcomings do not erase the unprecedented success of this year's Wildcats.
That success is due in large part to seniors Julie Battista, Jennifer Carrigan, Cary Morrell and Kristin Dunst, who played in their last game.