University mourns death of C&F senior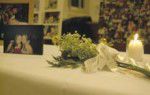 Over a hundred people attended Wednesday's memorial service for Laura Anne Geller, a University senior and Hohoken, N.J., native who died Nov. 12, after a three-year struggle with leukemia.
Many University faculty members said Geller, a finance major in the College of Commerce & Finance, was an exceptional student determined to succeed.
To friends and family, however, she will be best remembered as a genuine, well-liked, strong-minded person.
"Even during the toughest times, Laura never discussed death," close friend Dana Dalle Molle '02 said. "She knew how sick she was, but she fought and fought and was always so determined to live."
Geller was first diagnosed with leukemia during her freshman year in April 1999.
After undergoing chemotherapy and eventually entering remission, she returned to the University for the second semester of her sophomore year after a short medical leave. Despite her still serious condition, Geller worked as an intern for America Online that summer. She returned to campus in fall 2000 for the first semester of her junior year and studied abroad that spring at City University in London.
As Geller's period in remission approached two years, doctors said Geller had a 95 percent chance of recovery.
Prior to starting her second semester of senior year, however, Geller was diagnosed with cancer for the second time. In January, she took a medical leave of absence. Geller received a bone marrow transplant in March and was released from the hospital in mid-June.
She spent the next several months in and out of the hospital due to complications. In September, doctors said Geller had a 30 percent chance of survival, and she was admitted to Hackensack Hospital shortly after.
By July, Geller's hopes were reduced to a 10 percent chance of recovery, and a week before her Oct. 7 birthday, she was moved to the hospital's intensive care unit, where she died.
Throughout her battle, Geller was determined to return to Villanova for the spring 2003 semester.
She also remained focused on filling the full-time position AOL offered her upon her graduation.
"It was a testimony to her spirit that she accepted the position [with AOL],"said Dr. Michael Pagano, one of Geller's favorite finance professors.
Geller took Pagano's Introduction to Finance and Financial Institutions classes. Pagano said she was always a conscientious student who did well in class. He remembered Geller as a soft-spoken, well-mannered and genuinely good person.
According to Dalle Molle, Geller's relationship with her parents, Robert and Maria, and her boyfriend, Brian Hoelzle '02, helped her during her illness.
"Laura adored her parents," she said. "Her boyfriend also helped her be strong. They were all with her every single weekend [in the hospital]. I believe their influence, along with her amazing attitude, are what kept her alive."
"From the day I met her freshman year, I could tell she was a strong-minded person. But she became the strongest-minded person I've ever met."