'Cats head into Delaware in must-win situation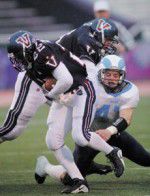 The football team is approaching its biggest game of the season. With a victory this Saturday against Delaware, the Wildcats will most likely be assured a playoff berth. A loss, however, eliminates the 'Cats from the playoff picture.
A victory will be challenging for the Wildcats, since the Blue Hens are yet to lose a home game, going 5-0 this season. Along with defeating Maine on the road, they also had an impressive win over Georgia Southern, one of the strongest Division-1AA teams in the nation. They have, however, displayed some inconsistency, suffering an uncharacteristic loss to the Rhode Island. This enhances hope for the Wildcats, as they defeated Rhode Island 45 – 3 this past week.
After beating both the Ivy and Patriot league champions, Villanova really aspires to continue its season into the playoffs. The team will be looking for strong performances primarily from the seniors, who not only maintain the leadership roles on the team, but also hold the most amount of big game experience.
Delaware will look to mix its running and passing game, with Andy Hall as its main guide. In Delaware's last game two weeks ago, Hall completed 10 of 19 passes for 146 yards. He is not a one-dimensional quarterback, however, as he also leads the team with 863 rushing yards. Another offensive threat is freshmen wide receiver Justin Long, who leads the team in receptions with 46, receiving 559 yards and four touchdown catches.
Villanova's victory last week may give it a slight advantage towards having a momentum shift, especially since the Blue Hens did not even play last week. Villanova's quarterback Brett Gordon became the second player in school history to have two 3,000-yard passing seasons. Along with this milestone, coach Andy Talley earned his 150th victory.
Villanova's defense shined as well, as it forced five turnovers and amassed six sacks. Linebacker Jamison Young had a game high 11 tackles. Villanova displayed a significant amount of versatility, as it scored touchdowns on seven of its first nine possessions, having six different players enter the end zone.
Villanova also earned Special Teams Player of the Week honors. Gary Johnson was recognized with this award because of not only blocking a punt in the second quarter, but also blocking a 36-yard field goal attempt, along with two unassisted tackles.
Delaware has a much stronger rushing offense than Villanova, averaging 206 yards per game, as oppose to 'Nova's 135. To contrast this disparity, however, Villanova averages 275 passing yards, annihilating Delaware's 168-yard average. Villanova holds a much stronger overall offense with almost a 100-yard differential between the two teams. Defensively,
Villanova is a much more rounded team, with both a stronger rushing defense and a stronger passing defense.
Its overall defense is seventh in the nation for Division 1-AA. Delaware, on the other hand, is 50th in the nation in total defense.
With such a meaningful game, comes a notable amount of anticipation as the 'Cat's look to prolong their season on the road.