Winter storm closes University for two days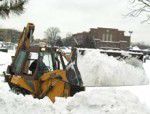 The University needed two days to recover from a snowstorm that left as much as 25 inches of snow in some areas around Philadelphia. The storm, which was the most severe since the blizzard of 1996, led to the canceling of all flights out of Philadelphia International Airport.
Classes at the University were cancelled Monday and Tuesday to keep students, faculty and staff off of the dangerous roads and to give the University time to make campus roads and pathways safe.
Although the students had two extra days off from school, the facilities crews had to work around the clock to get the situation under control, with a 30-person grounds maintenance crew equipped with six snow plows, three snow tractors, snow blowers and shovels. The massive amounts of snow forced them to call for outside help.
Outside contractors provided 15 pieces of heavy equipment and operating crews. Together, the two teams got the situation under control by early Tuesday afternoon.
Robert Morro, executive director of Facilities Management, said, "Safety is our first priority and biggest concern."
Snow crews first cleared all the main roads, in case fire or other emergency vehicles needed to get in or out of campus. Next, they tackled the main paths to and from residence halls and dining halls. Pathways that led to the intersection of Lancaster and Ithan Avenues were then cleared.
The devastating impact of the storm was due not only to the sheer amount of snow that covered campus, but also the long period of time over which it fell.
"The extended duration of this storm made it harder to deal with," Morro said. "We had to clear and re-clear and re-clear each area several times. This made us less efficient and prolonged the cleanup efforts."
Students reacted to the snow in a variety of ways, ranging from innocent snowball fights and snow angels to orchestrating the simultaneous activation of several fire alarms in the West campus junior apartments late Sunday night, which greatly complicated life for other students, staff and local emergency officials.
Some students made fleeting attempts to drive to the local grocery stores to gather supplies for their snowbound mini-break. One student reported that during an unsuccessful trip to Genuardi's, his car spun 360 degrees twice before deciding against the trip and heading home empty-handed.
Though the storm was a major inconvenience for some, Facilities Management is satisfied with the way it responded.
"No major surprises. Just the usual," Morro said.
"But take a look at the piles of snow spilling off the SAC parking deck, we'll be watching those piles melt well into spring. In fact, we're having a contest to pick the date the last pile will melt."