The race is on: 'Chicago' leads 2003 Oscar nominations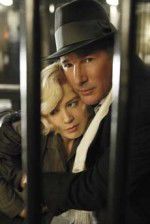 Last Tuesday, Academy Award winner Marisa Tomei and Academy President Frank Pierson announced the nominations for the 75th Annual Academy Awards. What an interesting year for the Oscars.
Starting with the least number of surprises: The nominations for best picture generally are those which critics have been predicting to receive nominations for months. The nominations for best picture include "Chicago," "Gangs of New York," "The Hours," "Lord of the Rings: The Two Towers" and "The Pianist."
A somewhat surprising lack in this category, however, is "About Schmidt," a depressing, dark comedy about a retired Jack Nicholson giving one of the best and most played-down performances of his life. Nicholson, save the film itself, did receive a nomination for his portrayal of Warren Schmidt — and rightfully so.
Rounding out the category of Best Actor are Adrien Brody ("The Pianist"), Nicholas Cage ("Adaptation"), Michael Caine ("The Quiet American") and Daniel Day-Lewis ("Gangs of New York"). Many critics predicted Richard Gere would receive a nomination for "Chicago," but to the surprise of many, he did not. The majority of critics, actually, had never mentioned Caine as a contender they had considered.
"Chicago," without Richard Gere, did not go empty handed. With a total of 13 nominations, "Chicago" led the pack, falling just behind the all-time record of the highest nomination count ("Titanic" at 14 in 1997). The "Chicago" takeover included Renée Zellweger for best actress with Catherine Zeta Jones and Queen Latifah for best supporting actress. Yes, Queen Latifah. Latifah's performance in the film is fabulous.
Also nominated is John C. Reilly, an independent film golden boy, for his supporting role as Amos, Roxie's (Zellweger) husband. It's really about time Reilly received an Oscar nomination. His performance in "Magnolia" (1999) also deserved one, as did probably several of his past performances.
Also notably, Julianne Moore received both her third and fourth Oscar nominations in two categories: supporting actress in "The Hours" and best actress in "Far From Heaven." In "Heaven," Moore is the wife of a closeted homosexual (Dennis Quaid) in a failing marriage during 1950's.
Charlie and "Donald" Kaufman received nominations for best adapted screenplay for "Adaptation." Donald, of course, is Charlie Kaufman's fake twin brother, created for the film; he does, however, receive writing credits on the film and thus received a nomination along with Charlie.
Other "Adaptation" nominees include best supporting actress Meryl Streep (her 13th nomination), best supporting actor Chris Cooper (his first and very deserving nomination), and best actor Cage (his second).
Other acting nominations include Salma Hayek, Diane Lane and Nicole Kidman in the category of best actress, Kathy Bates in the category of best supporting actress and Ed Harris, Paul Newman (only major nomination for "Road To Perdition") and Christopher Walken for best supporting actor.
Also, Eminem is nominated for an Academy Award! Even if it is in the category of best original song, let's all just enjoy the fact that Eminem received an Oscar nomination. What a great year for musicians! Odds are that Eminem will be performing his nominated song "Lose Yourself" during the ceremony, along with "I Move On" from "Chicago," "Burn It Blue" from Frida, U2's "The Hands That Built America" from "Gangs of New York," and Paul Simon's "Father and Daughter" from "The Wild Thornburys."
In the category of Best Animated Feature Film are "Ice Age," "Lilo & Stitch," "Spirit: Stallion of the Cimmaron," "Spirited Away" and "Treasure Planet."
The Academy Awards will air on March 23 at 8:30 p.m. from the Kodak Theatre in Hollywood. Steve Martin will return to host the ceremony for his second time. His dry humor was not so incredibly well received by his audiences of colleagues during his first hosting experience in 2001, but perhaps his colleagues could get off of their Billy-Crystal-loving high horses, have a bit more of a sense of humor, and realize that he really was funny and probably will be funny again. And in the grand tradition of awards shows, though I will not be watching, Joan Rivers will be doing pre-show madness all day on E! Entertainment Television that Sunday.
Let the Oscar pools begin.