VST's 'Rumors' brings laughter to 'Nova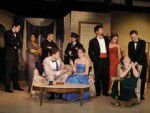 Rumors are taking center stage at Villanova this spring. Neil Simon's "Rumors," that is. Villanova Student Theatre's production of the popular comedy opens this weekend in St. Mary's Auditorium.
Directed by junior Marc Napolitano, the play takes place in the swanky suburbs of New York City. Chaos ensues when four couples gather for an anniversary party plagued by gunshots, cooking accidents, psychoactive drugs and a missing host and hostess.
A bit of a departure from VST's recent productions of "Mourning Becomes Electra" and "The Tempest," "Rumors" gives the cast and crew a chance to explore their comedic sides.
Junior Dan Gallagher, who plays Len Gantz, was happy to return to comedy. "So often in college theatre, you get old, sad tragedies in which somebody dies," he commented. "Comedy's more fun."
Napolitano is excited about directing a comedy. "We have very funny people in the organization," he explained. "It's nice to let them use their comedic talents."
Despite the hilarious script, the process of bringing "Rumors" to life wasn't all fun and games. "The script is funny, which made it challenging for me to add my own touches," Napolitano said. "The most difficult thing was timing because without good timing the jokes just don't work."
There is also a danger in comedies that characterization will fall by the wayside of humor, something Napolitano took steps to avoid. "I told the cast at the first rehearsal that I didn't want them all to be playing the same character panicking," he said. "They all panic, but the characters have distinct personalities and motivations."
Sophomore Brian Dooley found plenty to work on in creating his character. "I feel I can be more of myself," he stated, comparing his role as Ernie Cusack to last semester's turn as the King of Naples in "The Tempest." "With 'Rumors,' you can mold your character into your image of what you think your character should be."
With a healthy mixture of returning veterans and enthusiastic freshmen, the cast has had a fabulous time bringing Simon's words to life – both as actors and friends. Freshman Megan Sullivan exclaimed, "I love it! It's a different scene with different people and good times"
Performances will be held March 28-30 and April 4-6 in St. Mary's Auditorium. Sunday performances will be at 2 p.m., all other performances at 8 p.m.. Tickets are $5 in advance, $6 for students and $8 for adults at the door. The cast includes Megan Sullivan, Steve McCarthy, Dan Gallagher, Val Giacobbe, Brian Dooley, Sarah Reisert, Kimberly Fernandez, Steve Eberly, Vick Bazarbashian and Katherine Mawn.