Round two for SGA hopefuls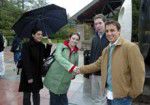 In an election boasting the highest turnout in University history, Maureen Holland and Gita Gupte narrowly received more votes in the Student Government Association presidential race than Nestor Fernandez and Timothy McGovern, 986-895.
The two tickets will compete in a run-off through this week, as the winning ticket must receive a majority vote to win the presidency.
Jason Zola and Joe Gribbin received 300 votes to finish in third place. Just behind their ticket was Nick Bouknight and Safeer Bhatti with 297 votes and Kevin Martens and Colin Raws with 287.
Though the race has become much smaller, both tickets plan to move forward with little change in strategy.
"Now with only two tickets it's going to be easier to get [candidates eliminated from the run-off] to speak out and support us," Fernandez said.
Gupte planned to maintain her ticket's high-energy approach.
"We're going to keep going at it full force," the current SGA chief of staff said.
In the highly-contested commerce and finance senate race, Rebecca Rose, Joonsup Park and Christopher Guild won seats, receiving 423, 279 and 258 votes, respectively. Incumbent Garrett Bastable trailed closely, receiving 243 votes.
Marco Napoletano won re-election to the engineering senate, defeating junior Abraham Hurdle 217-181. In the nursing senate race, Barbara Burke won her first election over Nicole Pierre, 77-40.
Ryan Costella and Paul Vitale won uncontested seats in the arts senate, as did Lauren Geaney in the science senate.
The winner of the presidential election will select a third arts senator to fill that vacancy.
A failure of the elections commission led to a 24-hour delay in the SGA online voting process, Tom Mogan, director of Student Development and adviser to SGA, said Tuesday.
The commission failed to give the Office for University Information Technologies enough time to create and launch the online voting system, a failure for which Mogan assumed responsibility.
"The elections commission did not give UNIT enough time to get the process set up," Mogan said.
"We thought it would just be a question of putting new faces with new names on the ballot, but it is more involved."
UNIT was able to get the new information onto the site by Monday but could not make it accessible to students without resetting the server. Doing so Monday morning would have caused problems for the campus network, so it was completed this morning instead.
A total of 2,765 students participated in the election, breaking the record set in 2001 of 2,534 votes. That total was accumulated in a year that featured just two presidential candidates; the last time five tickets sought office was in 1998 when less than 2,000 students made it to the polls.
Having five tickets was a plus, according to incumbent Holland.
"The nice thing about having five tickets was that it didn't get too negative," she said.
When asked if that might change as a result of the run-off, she just smiled.
"Not on our end," she said.