Bon Jovi promotes CD at local store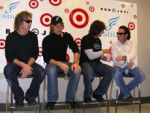 PLYMOUTH MEETING – It's been a decade since rock legends Bon Jovi have held an in-store appearance. And given their history at such events – including a car crash caused by fans trying to get the group's attention – it's not surprising that they have shied away from such appearances of late.
But the band put its trepidations aside Tuesday afternoon, as the four held a press conference and signed autographs for fans at the Greatland Target off West Germantown Pike.
"These things always used to get really out of control," frontman Jon Bon Jovi said at the press conference.
But a number of situations, including the release of a new album and Jon Bon Jovi's recent purchase of a local arena football team, sent the band on the road to promote the album and the team.
The Target site was chosen because of the band's relationship to the chain – the retailer released an exclusive eight song collection of b-sides and live tracks last winter.
Why Plymouth Meeting? "That's beyond me," Bon Jovi said.
The band's latest album, titled "This Left Feels Right," was released last Tuesday. The album is promoted as a collection of greatest hits with a twist, as the band stripped each song to its lyrics only and rebuilt the tracks, using new instruments and tunes to create a completely different version of each song.
"For us it's very flattering … to take songs written years ago and to bring new life to them," lead guitarist Richie Sambora said. "After [you] listen to it four or five times, this becomes the version."
The band put the record together in just 23 days.
"Time was of the essence with this project," Bon Jovi said. "With more time, we probably would've done another dozen songs … but we had 10 days [to record] in Jersey and 13 in L.A. and that was that."
Bon Jovi also discussed his latest venture, the Philadelphia Soul, an expansion arena football team, which he said has been more challenging and time-consuming than music. He also fears Philadelphia's reaction to a die-hard Giants fan serving as the team's owner.
"They'll either embrace me or throw me from the 700 section," he said with a laugh. "But I'm from central Jersey. We don't wish Eagles fans or the Eagles any ill will. What we both have in common is that we hate Dallas."
The band has two upcoming events in the area. Bon Jovi will be playing two shows at the Borgata in Atlantic City this Friday and Saturday. Additionally, Jon Bon Jovi will be at the Electric Factory in Philadelphia on Nov. 30 to oversee auditions for the Soul's dance team.