SEPTA, SGA to repair tunnel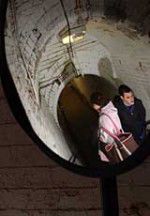 The Student Government Association (SGA), in conjunction with the Campus Improvements Committee, has committed SEPTA to making safety alterations and restorations in and around the R5 train station. After meeting with SGA officials and taking a personal tour of the station, director of maintenance of SEPTA Bill Dilks made the necessary arrangements to get the plans under way.
"The improvements to the R5 were and are sorely needed for obvious reasons." Jon Ambrose, chairman of the Campus Improvements Committee, said. "The station has been an eyesore for years, and thanks to Nestor Fernandez and Tim McGovern's campaign platform, the initiative was finally taken to do something about it."
The project will be aimed at making short-term changes until SEPTA can concentrate on a full overhaul of the station. Renovations will include painting water canopies, installing mirrors at each end, repainting the walls and permanently securing wires in the tunnel.
"Since the changes are a face lift and safety improvements, there should be minimum to no delay to students using the station and tunnel," Andrea Sammut, director of public relations for SGA, said.
The changes come after several years of attempts by SGA to commit SEPTA to improve the station, which proved unsuccessful until recently. "The SGA Executive Board is very proud of Campus Improvements for keeping on top of SEPTA," Meredith Grasso, SGA secretary said. "Many SGA administrations have been working on this issue and Jon Ambrose deserves to be commended for his work."
The improvements were started two weeks ago with the installation of the mirrors at both ends of the tunnels and, weather permitting, will continue over the next few weeks.
Independent of SEPTA's renovation, the SGA is looking for a campus organization to paint a small mural on the station. The SGA hopes that the mural will liven up the station and make it more attractive to students and visitors alike.
"The improvements are a start but more is needed," said freshman Broc Flores.
Other changes planned by SEPTA include a complete overhaul of the station, platforms and landscaping, but are not scheduled to be finished for another five years.
Director of Public Safety Jeffery Horton said, "Any safety improvements are a benefit to anyone using the train and train station."
The cost of the project will be covered completely from the SEPTA budget at no cost to Villanova. Since the station property does not belong to the University, it is not allowed to improve or renovate the station without the permission of SEPTA.
SEPTA was unavailable for comment.