Philly smoking ban may soon hit Main Line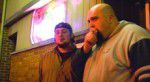 It's Friday night. You go out with some friends to the local college bars for drinks to unwind from a long week of classes and studying.
It ends up being a great night of fun. But the next morning, you wake up and your clothes and hair reek of cigarette smoke. Does this bother you? For legislators in Philadelphia, it does.
Beginning in January, all workplaces, including bars and restaurants, in Philadelphia will become smoke-free, according to an Associated Press article published in USA Today in mid-September.
Though Mayor John Street signed the bill in mid-September to make the ban effective immediately, most of Philadelphia's bars have yet to enforce the law.
The reason for this, according to an article in the Philadelphia Inquirer, is due to confusion surrounding the law, including the lack of proper notification and possible exemptions. Also, the city Council is considering making amendments to the law, which would push back the implementation date back to Jan. 7.
The current law states that violators of the law are subject to fines between $25 and $300.
The smoking prohibition extends 20 feet beyond the doors of these establishments.
Neighborhood taverns, those that gain at least 90 percent of their revenues from drinks alone, are exempt from this law for two years.
The smoking ban only applies to Philadelphia, and the local Main Line bars will not be affected, since they are classified under Radnor and Lower Merion townships. A bill was recently proposed by Sue Cornell, then-Republican representative in the Pennsylvania House of Representatives from Montgomery County, to make the smoking ban a statewide law.
However, the committee that voted on the bill in the Pennsylvania House was at a standstill when the result was a 14-14 split. Also, due to Cornell's loss in the recent election and the session's end, discussion of the bill cannot be conducted until the session resumes with the new congressional members in January.
Though Cornell's bill failed, Rep. Daylin Leach (D-Montgomery County) is confident that the discussion will resume once the new session begins.
"I'm sure that the bill will be reintroduced as soon as the new session begins," Leach said. "This definitely isn't the last of it."
Although not legally mandated to do so, some local restaurants and bars, such as Gullifty's Restaurant, plan to implement a smoke-free policy anyway.
"Everyone is so health conscious lately, and a smoke-free environment is a better eating environment," Melissa Conlon, a manager at Gullifty's, said. "It should be up to the owner whether or not he wants the restaurant or bar to be smoke-free. But though we're not affected by the Philadelphia law, our owner has expressed interest in converting to smoke-free, even before January."
However, many other local restaurants and bars that will not be affected by the new smoking ban say they do not plan on going smoke-free anytime soon.
The Great American Pub in Conshohocken, which features a whole room dedicated to non-smokers separate from the bar and tables for the smokers, is one of the many bars that does not intend on changing its smoking policy. Ellen Policinski, a waitress at the Great American Pub, said that the people who choose to eat in the non-smoking section are completely separated from the smoking section.
"At night when the bar is full, it smells bad," Policinski said. "But nobody has mentioned to me that we're going non-smoking, and since we aren't in Philadelphia, I don't believe that we're going to be making the conversion."
The Grog, located in Bryn Mawr, also features both smoking and non-smoking areas, something the owner Bill McClatchy feels is a competitive advantage.
McClatchy does not plan on changing the layout of his restaurant/bar, but he showed concern about the success of his establishment if the statewide ban were to take effect. McClatchy said the smoking ban would eliminate the advantage he has over competing establishments.
"[The smoking ban] would definitely put me on an even playing field," he said.
Ryan McCauley, manager of Kelly's Taproom in Bryn Mawr, also said he does not plan on changing the smoking policy unless the ban becomes mandatory.
Kelly's currently permits smoking on all three of its floors, but the second and third floors become non-smoking during dinner hours.
Though McCauley does not plan on changing anything, he recognized the inconvenience that such a ban would put on his pub.
"I don't think it would hurt business," he said. "But it would make things more difficult. Also, it might create an issue for the township if people are forced to stand outside and smoke."
Joe Rufo ('99) is the owner of Brownies 23 in Ardmore. He felt that a statewide prohibition would greatly hurt his business and feels that, "people like to drink and smoke together."
"On one hand, I'd certainly be happy to be breathing clean air every night, but it will hurt my business," Rufo said.
Many students at the University have mixed feelings about Philadelphia being the most recent to join nationwide trends toward the smoking ban.
"I think it's a great idea, and I'm very happy that Philadelphia has decided to implement the smoking ban in bars and restaurants," non-smoker Lauren Viscomi said. "I am from New Jersey, and it's so nice going out there and not having all my clothes smell like smoke. Hopefully the law will migrate from Philadelphia to the Main Line very soon."
Other students are not as excited about the new law, especially those who smoke.
"Being a smoker, I oppose this new law," senior Michael Savva said. "I don't really think it's fair for smokers because we have grown accustomed to smoking while drinking."
Savva added, "The social scene of the bar will also change because smokers will now be forced to leave their friends in the bar to have a smoke. I understand that secondhand smoke is bad, and people who don't smoke do not enjoy going out to a bar and breathing it in. My comment to them would be to go to a different bar or find a different venue where smoking isn't legal."
Adam Abruzzese, a senior who also smokes, said that he has grown accustomed to the non-smoking laws once he is from New York, a state that already has a smoking ban in place. Still, he said that the new law will cause a major inconvenience.
"I think it's a pain," Abruzzese said. "It causes so much more hassle when you want to smoke because you have to go outside to do it. It's bad especially on those days when it's rainy or cold."
However, Abruzzese said that the new law will not hinder him from smoking.
"I'm not going to stop going out because of it, but it'll definitely be more of a hassle," Abruzzese said.
Although the smoking ban will only directly affect the city of Philadelphia, if it were to eventually extend to the local Main Line pubs, bar-goers, both smokers and non-smokers, will have something to say about it.
Currently, smoking is prohibited in bars and restaurants in 17 states and 461 towns, cities and counties, with Philadelphia being the most recent addition.