NovaFest deemed a success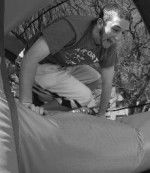 Officials agree that this past weekend's NovaFest was a success. The Department of Public Safety and VEMS both acknowledged that while the festival is known to be action filled, this year NovaFest was relatively tame.
Anticipating a busy weekend, administration and event coordinators made student safety one of the major priorities of the event.
"A large part of the safety issue depends on student cooperation," said Rev. John Stack, O.S.A., vice president of Student Life. "As long as students are sensible with the activities they participate in during the day, the event will be positive."
The notorious influx of alcohol consumption and rowdy behavior that NovaFest has incited in the past was only exhibited during the gathering outside the West Campus apartments on Saturday afternoon. Stack was quick to point out that this particular event wasn't officially sponsored or planned by the University, however.
"The only real problem was the debris that was left behind," Stack said. "People can't just throw anything wherever they want. Sometimes people just get caught up in that 'crowd mentality' in which they act differently than they normally would.
Casey Dolan, a junior communication and political science major, believed the events on West Campus were fun filled and good for the student body.
"It was one of the most fun days I have had here," Dolan said. "It was nice for so many different people and grades to be able to come out and enjoy themselves together. There were a lot of people, but it wasn't ever out of control."
Administrators from the Department of Public Safety, as well as members of VEMS, agreed that, as far as the festival went, there were no issues in terms of chaotic behavior or unforeseen problems for them to handle.
VEMS Captain Kaitlin Ryan noted that medical crews anticipated the weekend to be busy and therefore planned ahead accordingly.
"We spent time planning ahead," Ryan said. "For example, at the Goo Goo Dolls concert, we made sure we had a full-duty crew and, in addition to that, two standby crews. There was an increase in call volume compared to other weekends, but nothing we weren't prepared to handle."
Debra Patch, associate director of Public Safety, also considered the situation to be well handled.
"Aside from the debris left on West Campus, there really were no problems," Patch said. "The number of students that went to the hospital was up, but that was obviously due to the increase in alcohol consumption."
The arrival of spring provided a perfect backdrop for the greatly-anticipated event. Students embraced their time in the sun, which also contributed to the overall positive nature of the weekend.
Saturday's Sheehan Beach Field Festival was moved from Sheehan Beach to the area behind Connelly Center in a last minute decision due to rain complications from the previous week.
Abbey Carr, NovaFest 2007 director, found the new location to be quite accommodating to both the students in attendance and the bands that were scheduled to play throughout the day.
When asked whether or not this change will be made permanent, Carr quickly relayed that decision back to students.
"We are always looking for student feedback," Carr said. "We will ask students to see whether or not they liked it [the new location] better and will make changes accordingly."
Taste of Philly and MtvU were also well received by students and will most likely become bigger contributors to NovaFest festivities in the future.
"We want to continue and expand the Taste of Philly, due to the fact that they ran out of food within the hour," Carr said. "We definitely want to continue to host MtvU as they promote their spring tour."
MtvU provided many promotional perks, such as free massages and a greenscreen for students to take pictures against.
According to officials and students, the Goo Goo Dolls concert featuring Copeland was a perfect end to the festivities.
"It's important to praise the CAT volunteers who came out and stayed until 4 a.m. in order to deconstruct the stage and clean up the aftermath," Carr said.
Although many volunteers worked over 20 hours to make the concert a success, their efforts were well worth the trouble.
Satisfied with this year's outcome, NovaFest coordinators look forward to planning next year's festival and want to make it even better than this year's.