Around the world in St. Mary's gym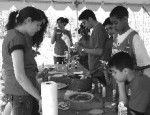 Over 100 Villanova students woke up early during Novafest on Saturday morning to spend the day with inner-city Philadelphia children. Rays of Sunshine, a University community service organization, hosted about 100 children for Sunshine Day, an annual carnival that rewards the children tutored by Villanova students for their hard work throughout the year. Activities included face painting, inflatable moon bounces and mazes, arts, crafts and games both inside and outside the gym.
The theme, "Around the World," transformed St. Mary's gym into a place of exploration as children could travel to the seven continents simply by walking to them. Students strolled around in costumes displaying different ethnicities from Africa, Asia, South America and Europe; a polar bear costume represented Antarctica. Special performances from Rampage, the Irish Dance Team and ASA's tiniklers entertained visitors.
Children came from Northern Home for Children, St. Nick's, Universal Charter School, St. Phil's, Mt. Zion and Southwest Enrichment School to attend Sunshine Day.
"Sunshine Day went very well this year," co-events chair Caitlin Devlin said. "We had a great committee that was well-organized and excited about Sunshine Day from day one. It was so exciting to see the kids' faces when they played the games and collected prizes throughout the day. They especially enjoyed the newly added field day events we held outside for them. I'm already excited for next year."
Members of the men's and women's basketball teams and the Villanova Band also stopped by to entertain the children. A dance off took place between members of the men's team and a child from Northern Home.
"I loved watching them dance," senior Tina Canci said. "Especially when it was obvious that the little kid won, the basketball players just stood there amazed and really impressed by his dancing skills."
The children enjoyed being given the opportunity to interact with Villanova students from different clubs and sports teams.
Before the dance competition, basketball players allowed the children, regardless of size, to practice their dunking, dribbling and shooting skills.
Many of the children were excited to practice their favorite sports while having fun at the same time. The basketball players enjoyed themselves as well.
"I liked the dunking contest because the little kids got a chance to get lifted in the air and really dunk," freshman Charles Youn said. "When else can they do that?"
While Sunshine Day only lasted for a few hours, the planning takes several months. The time spent is well worth it in the end, however.
"We started out in late January by picking a committee, then brainstorming and inviting agencies to partake in the day," Devlin said. "Then spending months deciding how to put all of our ideas together and then contacting all the necessary people to make Sunshine Day as fun as possible. I think we pulled it off pretty well with the help of the committee and executive members."