Dream for Eileen 5K race deemed a success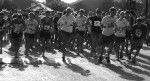 Ninety-nine people honored the memory of Eileen Shea Lupton and supported nursing students by participating in the fourth-annual Villanova University Dream for Eileen 5K Race on Oct. 6. Eileen Lupton, a 2003 Villanova nursing graduate, died in Chicago on June 29, 2003.
Proceeds from the race went to the Eileen Shea Lupton Memorial Foundation. The foundation provides scholarships for nursing majors in their third year of college who are in financial need. The foundation has raised over $250,000 and presented generous scholarships to four students.
"Having nurses is critical," said Eileen Lupton's father, Patrick Lupton, 59, who traveled from Chicago to be at the event. "The cost of private education is very scary today. Scholarships allow harnessing of the good will."
At 10 a.m., a few minutes before the race, participants of all ages stretched at the starting line marked by blue and white balloons in front of the site of the University's new nursing building while they listened to Lupton's father's words of gratitude.
Participants weaved through the campus in the 85-degree humid weather and finished back at the starting point.
"I was told about the race last night," said Chris Klobendanz, 18, a freshman engineering major and the first-place male runner.
The support of the University nursing community was evident not only in their promotion of the race but also in their personal testimony.
"The nursing community is really close," said Kate Walsh, 21, a junior nursing student and the chairperson of this year's event. "Everybody says 'hi' to each other. People are really close with people in their clinical groups."
"Some girls and I started a committee in New York to raise money in Eileen's honor," said Ali Finnegan, 26, a nursing graduate and Eileen's former roommate. "We raised $20,000 the first year."
Eileen Lupton was very involved in the College of Nursing, according to Finnegan.
"Eileen was extraordinary," said Carol Toussie Weingarten, a College of Nursing associate professor and Eileen's former teacher. "Creative, caring, intelligent and effective – she was respected and loved by the children and everyone else who worked with her."
"The nursing community is keeping Eileen's spirit alive by helping one of their own," Patrick Lupton said.
The Dream for Eileen Race is will celebrate its fifth anniversary on Nov. 24.