Shooter leaves campus, investigation begins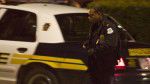 At approximately 8 a.m., Vice President for Communication Ann Diebold issued a statement via e-mail concerning the shooting that took place at the University's Main Lot at 2:30 a.m. In her statement, Diebold said that the University Department of Public Safety received a report of shots being fired, but that no injuries were reported and that the shooter had left campus.
"Police believe that one of the individuals involved fired several shots in the main parking lot and then left the area by vehicle," Diebold said in her statement.
Currently, DPS officials along with the Radnor Township Police Department are placing the incident under investigation.
Reports said that the altercation began with several reports of fights taking place around the Connelly Center near the end of a late-night dance party sponsored by the Caribbean Students Association and Keith Da Party King titled "Watch Dem Roll". It is estimated that there were approximately 200 attendees at the Campus Activities Team-sponsored event, which included both Villanova students as well as off-campus guests.
A Facebook group created for the event cited students from Temple University and other universities in the nearby Philadelphia area and around the Main Line as the major attendees.
University officials sent out a Nova Alert text message at 2:39 a.m. reporting the incident and advising those on campus to move to a secure location and lock doors, Diebold said.
According to Diebold, a final Nova Alert was sent at 7:36 a.m. advising that the shooter had left campus and that people could go about their normal business.