Get your Christmas on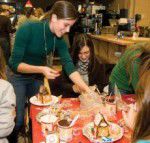 The trees are twinkling on campus, Dining Services carved a sleigh out of ice and you've heard Mariah Carey's "All I Want for Christmas is You" at least 17 times. But you still don't feel that chestnuts-on-an-open-fire warmth you usually get come December. It may be a little late to untangle Christmas lights and dress up your room, but there's still plenty of time to get in the holiday spirit before the jolly man makes his rounds.
Fight the finals bluesChristmas is only 12 days away, but at this point, you'd rather be lugging around a sack of coal than your backpack full of textbooks. And while an affinity for air-conditioning makes the library feel like the North Pole, there are no elves in sight to hammer out your philosophy paper by noon. But instead of stressing, try a few Christmas touches to keep you trucking through the next week. Change your laptop background to a Christmas scene – a cheerful Frosty or star-topped tree makes booting up for a long night in Bartley Hall almost bearable. Make sure to take a few study breaks, preferably three-hour time slots – they're ideal for watching a holiday flick. Remember the good old days of preschool with the clay-tastic "Rudolph the Red-Nosed Reindeer" or "Santa Claus is Coming to Town." Ah, the misfit toys – if they only knew the real loneliness of the bio lab at night. For some classic cheer, watch the perennial favorites: "It's a Wonderful Life" and "Miracle on 34th Street." No time for a feature-length break? Pop in "Dr. Seuss' How the Grinch Stole Christmas." It's about a half-hour long, and, hey, your professor isn't so bad compared to the green guy.
Give in to traditionsYou were the snowflake cutout champ, and your homemade Santa ornament was the perfect way to snazz up a boring pine. But then you turned 11. Now that you're an adult (really?) and you've realized that your parents aren't as lame as you thought (for now), it's only right to get in on some classic Christmas moments. Gather your friends for gingerbread house-making. See how long you can build without eating the candy or taking a spoonful of icing. Or just eat the supplies as you go – might as well start packing on the holiday pounds now. The lights are already up at home. Your parents have already put up the tree. But that doesn't mean you can't have a tree lighting in your living room. Invite your friends, family, the neighborhood kids – whoever – over to sing Christmas carols, hang ornaments and, if you're ambitious, string some popcorn garlands. Then count down to the light-switch flick. "Ooo"s and "ah"s should follow. Got little ones in the family? Dress up as Santa and make a surprise visit on Christmas Eve. Your uncle did it back in the day; now it's your turn to don the red suit and cotton-ball beard. That pillow may not feel like a bowl full of jelly, but at least you can weasel milk and cookies from the kids. Eat, drink and be merryOK, the food on campus isn't so bad. Heck, the End-of-Semester Dinner is pretty darn gourmet. But nothing beats home cooking, and with apartment life looming overhead, you probably should pick up a few tips this winter. Hang around the kitchen and see if the family chef will let you glaze the ham – wait, let's not get ahead of ourselves: maybe just mash the potatoes instead. Not into savory sides? Try your hand at baking. For those who know how to work a tablespoon and mixer, make gingerbread from scratch á la Julia Child. Don't know a cookie sheet from a cupcake tin? Pick up a pack of break-and-bake cookies, pop 'em in the oven and call yourself Martha.After the first snowfall of the season, hot cocoa is in high demand. But after your third cup, the Swiss Miss packet just isn't cutting it. Next time you tear the perforated strip, reach for a few additions to give that mug a personalized, and tasty, touch. Add a splash of mint or vanilla extract to kick the flavor up a notch. A dollop of whipped cream and a dusting of cinnamon and you're good to go. The box may say "just add water," but you were never one to follow directions anyway.You counted down the days to its return. The red cup is back at Starbucks – Christmas is officially upon us. Daily peppermint mochas are enough to gear you up for sleigh bells and sledding, but now you can spread the (caffeinated) joy, too. Starbucks' "Pass the Cheer" campaign (www.itsredagain.com) lets you e-mail good tidings to friends. Choose a "cheer" option, like "blows a kiss," "plays a holiday tune on a French horn" or "presents a giant fortune cookie that says 'Pass the Cheer.'" Then see if your friends keep the cheer chain going.
Get on Santa's good listAfter finals, holiday traffic and shopping bills, you may be playing the pity game, but take a cue from Cindy Lou Who and count the blessings that don't come in a box. Grab a Santa hat and sign up to ring for the Salvation Army. You've trekked from South to West in 20-degree cold, so an hour outside a grocery store is definitely doable. Plus, who can ignore an overzealous college student armed with a bell?Miss those magical afternoons when the Christmas toy catalog arrived in the mail? Channel your inner child and head to Toys "R" Us for a mini shopping spree. Bring some friends along and see who can find the best gifts on a budget. Then swing by the nearest toy drive bin and drop off the goods. But as super awesome as that Dora the Explorer cash register is, resist the urge to test it out – if a credit card goes missing, Santa will know who to blame. Aside from the, um, "festive" sweater from Aunt Betty, you usually get some decent outfits come Christmas morning. So many, in fact, you don't know where to put them. This year, prepare for the onslaught of cottons and wools by donating your old duds. Grab a Hefty bag and fill 'er up with sweatshirts, jeans, even that *Nsync concert T-shirt. It hasn't fit since ninth grade, and let's face it – JT's moved on.