NCAA Football: After crazy season, two favorites square off for title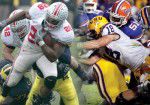 If college football were not crazy enough already this season, this past weekend's events added to the insanity. After No. 1 LSU and No. 2 Kansas both lost sight of the possibility to move on to the National Championship two weeks ago, this past weekend opened new doors for multiple teams.
No. 1 Missouri faced No. 9 Oklahoma in the Big 12 Championship on Saturday. Missouri's dream of winning the national championship was squashed, as Oklahoma clobbered its way to a win and yet another Big 12 title, moving Missouri out of contention. The same occurred for No. 2 West Virginia. What seemed to be an easy win led to a loss, as Pittsburgh pulled off a road win. So, which two teams would face off in the National Championship game? On Sunday night, the BCS bowl games were announced:
National Championship:
No. 1 Ohio State vs. No. 2 LSU
Featuring two teams that have proven to be top contenders in the rankings over the past few years, this year's National Championship will be a good matchup. So, what to look for? LSU: Watch out for Ohio State's defense. Facing a squad that allowed only two rushing touchdowns all season, LSU needs to be prepared on offense for the pressure from this Buckeye defense. However, LSU also needs to prepare for the talented offense of Ohio State. With players such as running back Chris Wells and quarterback Todd Boeckman leading the Buckeye offense, the LSU defense will need to shut them down early. A team that is used to playing the big games, Ohio State will be ready to avenge its loss to Florida in 2006.
The impressive Les Miles reaches the title game in only his third season as the head coach of LSU. Taking place in the Louisiana Superdome, the championship will basically be a home game for the Tigers, one advantage already going their way. With two talented quarterbacks to choose from, Matt Flynn and Ryan Perrilloux will be able to work against the Buckeye defense. It doesn't matter which one starts as long as the LSU frontline can put pressure on the Buckeye defense. Both of these quarterbacks have proved they are able to move around and create clutch plays. This type of player has been a problem for the Buckeyes all season and will prove to be problematic if LSU is able to take advantage of this weakness.
Orange Bowl:
No. 3 Virginia Tech vs. No. 8 Kansas
After winning the ACC Championship, Virginia Tech finds themselves in the Orange Bowl against a team that many critics say does not deserve to be there. The Kansas Jayhawks now ranked No. 8 after dropping from No. 2 when Missouri took their national championship chances away, have been chosen for a BCS bowl before No. 6 Missouri, the only team they have lost to this season. However, this team that does not have too many superstar athletes has proved to be a top contender this season. An extremely speedy team, Kansas leads the Big XII in scoring offense at 44.3 points per game.
However, Virginia Tech has produced speed on both sides of the ball throughout the entire season. Finally figuring out that they play better with a two quarterback system, the Hokies have become even speedier. Kansas needs to watch out for Virginia Tech's cornerbacks Victor Harris and Brandon Flowers who will be able to pressure Kansas' wide receivers Dexton Fields and Marcus Henry.
Fiesta Bowl: No. 9 West Virginia vs.
No. 4 Oklahoma
After being knocked out of the BCS National Championship by unranked Pittsburgh, expect West Virginia to come into this matchup hungry for a win. In order to beat Oklahoma, the Mountaineers are going to need to come up big in the passing game. They will also have to slow an incredibly speedy Oklahoma. While the Sooner squad has given up big plays in the passing game, it is strong against the run. Although the Mountaineers have played solid run defense all season, they have not faced a rushing attack like that of Oklahoma. It will all come down to whether or not the Mountaineers can shut down its opponent's strong offense.
Sugar Bowl: No. 10 Hawaii vs.
No. 4 Georgia
The only undefeated team in college football looks to complete its perfect season against Georgia, one of the hottest teams in the country. The Bulldogs have won six straight, their last five by double-digit margins, and nine of their last 10 games. Since Georgia did not compete for the SEC Championship, it was unable to enter the National Championship Game and are still looking to prove itself despite its stellar 10-2 record. Hawaii, the only non-BCS conference school in the BCS Bowl Series, enters New Orleans without much road experience. The Warriors are led by senior quarterback Colt Brennan, the NCAA record holder for career touchdown passes, who put up over 4,000 passing yards and 38 touchdowns this season. Hawaii's run-and-shoot offense should give the Bulldogs defense all they can handle; however the pro-Georgia crowd at the Louisiana Superdome will be difficult for the Warriors to overcome.
Rose Bowl: No. 13 Illinois vs. No. 7 USC
After pulling off one big upset this year against Ohio State, Illinois is looking to play the role of giant killer again. Having not played since Nov. 17, Illinois will either be fully rested and healthy or rusty after having so many days off. Either way, USC needs to be ready for a strong Illinois defense that has caught many teams by suprise this year. And do not forget about junior quarterback Juice Williams, who overpowered Ohio State earlier in the season. A bitter USC will be eager to win after it was not even considered for the National Championship game after being touted as one of the most talented teams in the nation. Since USC has just as much speed as Illinois, the game will end up as a battle between the defensive squads. With all of its linebackers healthy for the first time this season, Illinois' offense will have to make it past USC before it will be able to overpower anyone.