Merry Christmas, Villanova!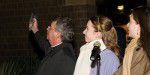 It's that time of the year again, when Merry Christmas Villanova Week descends upon campus, bringing a multitude of Christmas activities, concerts and shopping opportunities. More importantly, this Christmas season, there are decorations.
Many students and faculty may have noticed the lack of Christmas décor on campus for the '06 holiday season.
"We have had decorations for as long as I know, but over the course of time decorations have diminished," said Chrissy Quisenberry, assistant to the president for events.
This past summer, with the approval of University President Rev. Peter Donahue, O.S.A., Quisenberry and Robert Morro, executive director for Facilities Management, put together a team to fix this issue. The team included Kevin O'Donnell, superintendent of grounds; Elizabeth DiRita, work control supervisor; and Bernadette Dierkes, director of Creative Services
"We got together and discussed some different options," Quisenberry said.
After discovering that many of the previous decorations were no longer in working order, the group purchased new ones. Most importantly, they scouted a new tree location.
"Really what was being lit before was a bush," Quisenberry said.
Aside from the newly anointed Christmas tree, lit during Monday's Tree Lighting Ceremony, angels light the main University entrance, banners adorn Ryan's Way, and Connelly Center bears a decoration above its sign: a dove accompanying the word "Peace."
In front of Dougherty Hall stands the focal point of the season: a new nativity scene, purchased from St. Jude's Shop, a religious store owned by a parent of a Villanova student.
The scene cost $10,000 according to Louis DiCocco at St. Jude's shop.
"Carpenters on campus built the crèche and manger scene," Quisenberry said. "It is unbelievable, with real hay and everything."
In the evening the scene will be lit within the front to create the illusion of a starry Christmas night.
Other decorations surround Dougherty – the Villanova planter behind the building is lit in blue and white and a light shines on the building to illuminate the Moravian star on its roof. Red and green swag adorns the outside walls.
"These new efforts are just the first step in a multi-year process of Christmas decorating," Quisenberry said.
Old pictures of the University reveal that at one time, all the buildings on campus were adorned with lights. However, in order to achieve this, Quisenberry believes the entire community must get involved.
"Lights would need to be on buildings in July," she said. "It would take a large amount of planning."
An outside company would most likely need to be brought in to execute the actual work, according to Quisenberry.
Students are responding favorably to the idea.
"I would feel much better about my life during finals week if we had lights to enjoy around campus," junior biology major Kyle Feller said.
Already on West Campus, Christmas lights shine through the windows of individual apartments, and some clusters even adorn the outside of the buildings.
Various groups on campus get into the spirit. Connelly Center, Bartley Hall, SAC, the Office of Financial Assistance and many academic departments each have trees and various decorations, but Quisenberry believes that for Christmas to be truly magical at Villanova, the decorative efforts and seasonal activities should be coordinated.
As an initial attempt at coordination, the University has worked much more closely this year with the Campus Activities Team on its lineup of campus events. Co-Directors of CAT Special Events Diana Crowell and Kaitlin Cherundolo are working to make sure students on campus have plenty of holiday activities to enjoy.
Today marks the second day of the annual Holiday Bazaar. Many vendors will pack the Villanova Room from 11 a.m. to 8 p.m., providing a Christmas shopping opportunity for students on campus.
On Friday the second annual Yuletude Ball will be held from 8 p.m. to midnight in the Villanova Room. For a $5 entrance fee, students can enjoy live music, hot apple cider and an array of deserts from the Cheesecake Factory.
Increased decorations and fun holiday activities serve a great purpose for students in December, a month full of papers and final exams, according to Cherundolo.
"We just want to have something fun on campus so people can take a break from studying," Crowell said.