Community Service Break Trips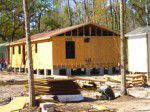 His face is kind but tired, conveying a wisdom far beyond his years as a Villanova senior.
Nate Molteni, "Nate Dog" as one of his Habitat for Humanity groups calls him, talks more like a jaded older man than like a partying, young undergraduate student.
Molteni has been on a number of Villanova-sponsored service trips, including a few to the New Orleans area after Hurricane Katrina. The incredibly articulate and insightful senior recalls his first trip to the area.
He felt a special connection to New Orleans and the people's plight there, and after his first trip to the area – during the winter right after Katrina – started a social justice group when he returned to Villanova called Disaster Awareness and Advocacy. The group was made up of his trip members and about 20 other people.
The group's goal was to advocate persistent awareness of the state of affairs in Louisiana.
"We thought about ways to lessen the economic blow," says Molteni. "It's always the poor who are affected the worst in situations like Katrina. It was quite a lofty mission, but we shared a personal experience that emotionally charged everybody."
Despite the group's successful initial run, it tapered off after about a year of existence.
"You can't remain in that heightened state," Molteni says. "There is a sense of immediacy right after a service trip. The farther away you get, the harder it is to drive such a lofty mission."
Molteni recalls his first trip to Louisiana after Katrina, a Habitat for Humanity trip that he spent mucking affected houses.
"Mucking" or "gutting" a house means to completely clear out the inside of it, including removing personal possessions, so that it can be either demolished or repaired. It is a very dirty and a emotional job.
Molteni returned to the same house the following summer, only to find that nothing had been done to the house in the six months since he'd last been there. Personal items that had been removed with care still lay on the dusty ground.
At the time, Molteni was frustrated to the point of defeat.
"If you can't make a change right there, how can you create real change from a distance?" he says.
As a Catholic school, Villanova University ingrains an obligation to community service in its students and runs service trips during every school break, including Habitat for Humanity and mission trips.
Though students get a chance to see and help people whose lifestyles are more difficult than their own, students return to a beautiful campus at a well-regarded school. Many students form close bonds with their service trip groups and return to school with a zest for making a difference in this world.
"My boyfriend just got back from his service trip," one Villanova student mentioned off-hand at a party. "So he's all on that 'it changed my life' kick."
Yet after a while, many students find it easy to lose that zest.
New Orleans and the surrounding area were featured on the front cover of every newspaper right after Katrina, but are rarely found in papers now, despite the continued hardship that goes on there.
Molteni fears a similar pattern for students.
"You're trying to base your actions on something intangible that you can't hold onto," Molteni says. "You get emotionally charged in the face of need. The farther away you get from that image, the easier it is to lose the drive that hits you."
He regrets his inability to do enough soon enough. "I just don't know how to do all that I can do. Everything seems insufficient."
Molteni's sentiment is a common one among the student population. Villanova students are bombarded with requests to help different causes everyday.
There were four different organizations asking for student help in just one issue of the Wildcat Newswire on Dec. 11, including Toys for Tots, Community Outreach, a MAMA fundraiser and Villanova Students Against Breast Cancer.
Villanova students, generally privileged members of society, struggle with a seemingly unanswerable question: How do I keep social justice in my life without the sense of immediacy that a service trip offers?
J.J.. Brown, Class of '07, participated in many service trips and led a group in Slidell last spring. He finds it hard to do community service outside of school.
"Now that I am working, I have to be much more proactive in volunteering because it seems that there is always so much going on with work, and I'm trying to
get other things done as well," Brown says.
Most Habitat and mission trips last for about one week. New Orleans will not be rebuilt in one week, nor will hunger in South America be solved nor the AIDS epidemic in Africa be cured. After every cause a student helps, a new one appears. With all the frustration in the effort to make a real change in the world, is community service really worth it?
Many students find the key to creating change is not necessarily in what the community service project is, but in the ideas and experience gained from it.
Now, Molteni considers his original disappointment at the New Orleans effort in a different light.
"I think that moment taught me everything I know about the Habitat experience," he says. "It's not about what you do, exactly; it's not about how many nails you hammer in. The question of making social justice a part of your life and how to do that is what people struggle with."
He understands the desire to help as much as possible and the obstacles students face in balancing a busy life with the effort to help everyone they can.
"No one person can fix the multitude of problems that face us, but if you convince other people of joining social justice, you're doing more good than that ever could," he says.
"The great thing about Habitat for Humanity is mixing ideas with other people," Molteni says. "It opens your eyes to what it means to live with social justice as a part of your life. You can improve your own methods and compare with others."
Tom O'Keefe, a Villanova junior who has participated in and led service trips, shares Molteni's belief in the power of "idea."
"Yes we're going back to our 'normal' lives at `Nova after a trip but we are bringing the experience and knowledge back with us," he says.
"Many people may not understand what we went through or what it is actually like, but a few do and are in turn encouraged to participate … that's what makes the difference. If we had not gone to Slidell, then 19 people would not realize what it was really like down there and be willing to spread the word or help further in the future."
Though school-run community service projects and trips may only make a small "real" difference, many students understand that their value lies in the experience.
It teaches students how to realistically make social justice a part of their everyday lives during their years at `Nova and beyond.
The big issue is how easy it is to do community service when the groundwork is in place for you.
"You have to make your own opportunities," Molteni says. "It's a different level of commitment to drive your own service."
Molteni says he still hasn't completely figured out how to perfectly balance his own life with helping others, but he is making progress.
Molteni plans to be a pursue a career as a teacher after graduation.
"For me, the call to be a teacher and using my skills to help others is an expression of social justice."
Hope is not lost for J.J. Brown either, who plans on restarting his community involvement once he is more settled in his job.
As for the far future, Villanova students in 40 years may still see Molteni at Habitat trips.
"I want to be one of those cool old people who travel around in RVs and help out Habitat when I retire," Molteni muses, with a playful smile finally replacing his furrowed, concerned brow. "Man, I love those people."