WBB: Wildcats fall to Notre Dame and Syracuse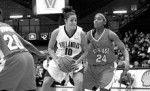 The women's basketball team experienced two tough losses to two tough Big East teams this week. On the road against No. 17 Notre Dame, the 'Cats lost 69-58 after giving up a season-high 24 turnovers. Later in the week against Syracuse, the Orange proved to be too much, giving Villanova their fourth Big East loss, as they went down 73-60.
On the road in South Bend, Ind., against No. 17 Notre Dame, the Wildcats kept the game close in the first half. The Fighting Irish implement a tough full-court press that makes their opponents throw long, hard passes down the court to open teammates, ultimately producing many interceptions and turnovers. Against the press, the Wildcat guards had a hard time holding onto the ball, resulting in the 24 turnovers.
A highlight of this game came in the form of the Wildcats' 3-point shot. In the first half, the team drained five 3-pointers to keep the game close. Senior Stacie Witman scored 14 points. Junior Lisa Karcic added 11, while junior Siobhan O'Connor added 10.
Junior Laura Kurz scored a team-high 20 points in the game. Junior Briana Weiss rounded out the Wildcats scoring efforts with three points. The team kept the game close and came within five points twice, but the turnovers killed its offensive efforts.
In the second game of the week, the Wildcats took on the Orange of Syracuse at the Pavilion. On a day when the team hosted all the local Girl Scouts, Villanova could not hold to the win in the end, losing the game 73-60, making its Big East record 1-4.
Against an athletic and mobile Syracuse team, Villanova knew this would be a game that would go down to the buzzer. Both teams played tough, scored many points and pulled down many rebounds. First-half action saw Villanova build a 10-point lead after a 17-5 run. Witman and O'Connor spurred the run, while red-shirt sophomore Tia Grant added points from the foul line.
At the half, the teams were even at 34-34 after a late Orange run that allowed them to tie up the score. Leading in the second half was Kurz, who scored 17 of her 19 points to allow the Wildcats to keep the game close. O'Connor and Karcic each ended the game with eight points, while Witman added a total of 13 points. Sophomore Maria Getty and Grant combined for 12 points.
'Cuse's late scoring attack proved too much for the Wildcats. Villanova's record stands at 11-7 overall and 1-4 in the Big East.