BNN: Separation between contender and pretender has begun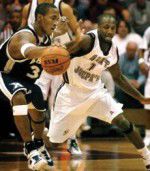 As we approach the end of January, college basketball fans have already been treated to another truly sensational season. Thus far there have been an unprecedented number of shocking upsets, a stellar freshman class impacting the game and two undefeated teams (Memphis and Kansas) with only about five weeks left in the regular season. With the roar of March Madness getting closer by the day, it is an appropriate time to look back at the surprises and disappointments that give college basketball its most fitting description: unpredictable.
DISAPPOINTMENTS
KENTUCKY WILDCATS
Expectations were high this season for one of college basketball's most storied programs. Coming off what many within Lexington had viewed as a disappointing second-round exit in last year's tournament, the Wildcats replaced former Head Coach Tubby Smith with Billy Gillispie, who had just recently resurrected a Texas A&M program from irrelevancy. Combining that with a talented group of returning players, led by seniors Joe Crawford and Ramel Bradley, there was a buzz of anticipation across campus heading into the season.
However, that buzz was killed almost instantly when the Wildcats fell to Gardner Webb at home in the second game of the season. Rather than just a blip on the radar, the game foreshadowed what was to come for Gillespie's crew. The Wildcats lost several shocking games at home, including losses to UAB and San Diego as they started off the season winning just seven of their first 16 games. This team that was ranked No. 20 in the preseason rankings will now have to struggle to even qualify for the NIT.
LOUISVILLE CARDINALS
Louisville is another team out of Kentucky that has left its fans questioning what is happening. There was experience and talent all over the Cardinals' roster heading into the season and much was expected from them, as shown by their No. 6 preseason ranking. Soon though, the team began to fall apart at a rapid rate. Senior captain David Padgett was lost to injury for several weeks, and shortly after that sophomore Derrick Caracter was suspended once again for disciplinary reasons. Louisville needed other players to step up, but the inconsistent play of sophomore guard Edgar Sosa left the team with more questions than answers.
Despite all this, it appeared as though Louisville had turned things around after winning four straight, including victories over Marquette and West Virginia, but a recent loss to Seton Hall leaves people wondering if they will ever see the Louisville team they thought they would.
CHRIS LOFTON
In his first three seasons at Tennessee, Chris Lofton had experienced remarkable success. His stellar play garnered him a spot on the preseason All-American Team for this season. Expectations were high for both him and his team. While the Volunteers certainly have lived up to the hype, Lofton has not.
The senior guard's scoring average has fallen from 20.8 points per game to 13.4. Even more shocking is that one of the nation's best 3-point shooters is making a career-worst 33.8 percent from 3 this season. While it appears unlikely that he will live up to his All-American projection, Lofton still can turn his senior season into a memorable one if he steps up his game. With a productive Lofton, the Volunteers can be a legitimate contender for the national title.
SURPRISES
OLE MISS REBELS
Many saw signs of change last season for the Rebels. Led by its impressive, young Head Coach Andy Kennedy, Ole Miss was able to win 21 games and earned a place in the NIT. However, the team's goal was the NCAA Tournament, and if the Rebels were to reach their goal, they needed to take a big step this season. With 15 wins in their first 17 games, the Rebels are more than on their way to their first spot in the Big Dance since 2002.
Ole Miss, which has been ranked as high as No. 15 in the country, has seen major contributions from young and old this season. Impressive freshman guard Chris Warren leads the team in scoring, while senior center Dwayne Curtis is second in scoring and first in rebounding. The mix of youth and experience blended quickly on this roster and was one of the main reasons the Rebels won their first 13 games.
ARIZONA STATE SUN DEVILS
Last season Arizona State won eight games. With five weeks left in the regular season this year, the Sun Devils have won 14 games. The success is not a mirage, as shown by their victories over Xavier, Oregon and in-state rival Arizona. The Sun Devils are in fact the real deal, and that is why they were back in the Top 25. For the first time since the days of Ike Diogu and Eddie House, Arizona State is relevant in college basketball.
Much of the credit for its turnaround should be given to Head Coach Herb Sendek. The former North Carolina State coach raised many eyebrows when he left the successful Wolfpack to coach a struggling ASU program, but in just his second year, Sendek has shown just how talented a coach he is. With the help of his two stellar freshmen, James Harden and Ty Abbott, Sendek has put the Sun Devils right in the heat of the Pac-10 race.
ATLANTIC 10 CONFERENCE
Which is the only conference with four teams in the top 21 of the RPI? Well, if you weren't clever enough to look at the title of this section, the answer is the Atlantic 10. It has already been a sensational year for a conference that has struggled in years past. Dayton, Xavier, Rhode Island and Massachusetts have all enjoyed stellar seasons thus far. Together they have shown that they would all belong in any major conference.
Xavier is responsible for Indiana's only loss this season, Dayton knocked off Pittsburgh when they were No. 6 in the nation, Rhode Island has taken down Syracuse and Providence and UMass boast wins over Boston College and Syracuse, respectively. With four very strong teams battling it out this season and a limited number of bids at stake, the Atlantic 10 race will be among basketball's most exciting.