Villanova co-sponsors Mendel Exhibit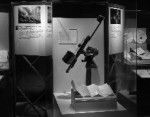 Villanova University and the Academy of Natural Sciences in Philadelphia are co-sponsoring a traveling exhibition titled "Gregor Mendel: Planting the Seeds of Genetics," starting this spring.
The exhibit traces the development of genetics as a branch of scientific study, with special attention to the contributions of Gregor Mendel.
"The partnership with the Academy, such a well-respected museum in Philadelphia, is an enormous opportunity for the College of Liberal Arts and Sciences," said Kate Szumanski, director of communications for the College of Liberal Arts and Sciences.
Artifacts from Mendel's home, the Augustinian Abbey of St. Thomas in Brno, Czech Republic, will be on display. Visitors will be able to see Mendel's handwritten notes, personal correspondences, botanical specimens, scientific instruments and more.
"So many of us know Mendel only as 'the Father of Genetics,' a quick one liner in a science textbook," Szumanski said. "The exhibit delves deeper into the life and work of Mendel and how he meticulously devised his scientific experiments, which serve as the foundation for the rise of genetic research."
While the exhibition is running, admission to the Academy of Natural Sciences is free for all Villanova students, faculty and staff with a valid WildCard.
In addition to the rare artifacts that will be on display, the exhibit also features interactive technology that will help to acquaint visitors with the story of Mendel's life and his work as a scientist and Augustinian friar in the 17th century.
Five videos and 10 hands-on activities will make the fundamentals of genetics accessible to everyone.  Visitors can recreate Mendel's experiment, compare what scientists saw through microscopes in different eras and use DNA to create a bird family tree.
As one of the few Augustinian Universities in the country, Villanova has a special connection with Mendel.
"Our very own Mendel Science Center, which bears Mendel's name, serves as a lasting and living tribute to this great Augustinian scientist," Szumanski said. "Students who experience the exhibit at the Academy undoubtedly will walk away with renewed appreciation for Mendel's work and may even look at our own Mendel Science Center in a different way."
While the main thrust of the exhibit is to educate visitors about Mendel's enormous contributions to genetics, it will also provide insight into the developments that occurred in genetics after Mendel's work.
Visitors can learn about the rediscovery of Mendel's research, the naming of the gene, T.H. Morgan's experiments with fly mutations, Watson and Crick's discovery of the double-helix structure of DNA and the Human Genome Project.
Along with the scientific effects of Mendel's work, the exhibition will display contemporary art inspired by the advances in genetics and human heredity.
The exhibit will also feature "Profiles of 'Modern Mendels,' " a presentation of present-day scientists who apply Mendel's theories to their fields of interest, such as conservation, evolution and biodiversity.
The exhibit will be open from May 24 to Sept. 28 at the Academy of Natural Sciences in Philadelphia at 1900 Benjamin Franklin Parkway.
The exhibit was first developed by Chicago's Field Museum in partnership with The Mendel Museum, which is located in Mendel's hometown. It made its North American debut at The Field Museum in September 2006.
When its tour in Philadelphia ends, this traveling exhibit will make four additional stops across the United States: Chicago, Washington D.C., Columbus and Memphis.
Mendel was a 19th-century friar and science teacher who designed an experiment with pea plants, through which he ultimately revealed fundamental laws of heredity.
Mendel's results were published in a local scientific journal in 1866, but the significance of his work remained unrecognized for several decades.  
Finally, in 1900 botanists Carl Correns, Hugo de Vries and Erich von Tschermak each referred to Mendel's experiments in their own articles on hybridization. At last, 34 years after its publication, Mendel received recognition for his discoveries.