WBB: Karcic, Kurz, Witman heat up against Bearcats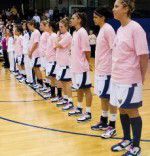 The women's basketball team took on the Cincinnati Bearcats in a Big East showdown while raising awareness for the Susan G. Komen for the Cure at the same time. Last Saturday, team members wore pink shooting shirts to warm up in, along with pink headbands, shoe laces and bands to show their support. Cincinnati was dressed in full pink uniforms for the event. Villanova won the game 69-50 for its third-straight win.
The day was called "Think Pink" in honor of the fight against breast cancer, but Villanova was also thinking win. The team, which has now won three in a row, is looking to make it back to .500 in the Big East Conference in order to get a good seed in the Big East Tournament. The win against Cincinnati brings its Big East record back up to 5-7 and its overall record to 15-10.
The trio of Lisa Karcic, Laura Kurz and Stacie Witman combined for 51 of the team's 69 points. These players have proved to be invaluable this year with their constant abilities to drive to the basket, shoot from beyond the arc and create points for their team.
Kurz added 25 in a game high, and Witman added 16, 10 of which came during a fast-paced second half. Karcic added 10 points and 10 rebounds to register a double-double as well as four steals, two blocked shots and five assists during the game.
The game was close up until half time, and then it got even closer, with the Bearcats pulling within three points at 39-36. This prompted a Villanova run of 17 points with Kurz and Karcic leading the way.
Sophomore guard Maria Getty scored eight points with a game-high seven assists, while junior Siobhan O'Connor scored seven points and pulled four rebounds on the day. Getty and O'Connor kept the game moving with crisp and swift passing, as well as good ball control while fending off a tenacious Bearcat defense.
Villanova's upcoming pivotal games included traveling down to USF Tuesday before taking on West Virginia Saturday. This two game road trip got off to a tough start with 'Nova losing to USF in a close game by a score of 66-77. The Wildcats then face Marquette and Louisville in must-win games if the Wildcats are to move on into the postseason.
The basketball program's efforts to "Think Pink" and raise awareness and money for the fight against breast cancer and the Susan G. Komen Philadelphia affiliate was a success. The game was attended by many families and friends of Villanova who all came out in pink to show their support. The team gave away T-shirts to many girls who came out to cheer on the Wildcats.
For her efforts, Karcic was honored as the Big Five Player of the Week for her play on the court in the past week. Karcic has scored over 20 points during multiple games this season. She netted 27 over St. John's earlier this month and registered a double-double against Cincinnati. Karcic leads the team with 65 3-pointers, 34 steals and 24 blocks over the 24 games thus far.