Column (Carolyn Brown): Insider look at off season of a D-I athlete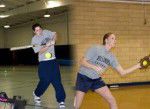 Christmas Break
When I return to school I will begin preparing for my last semester as a Division I athlete, and I have a feeling that this season is going to be the hardest. My team just received an e-mail that our strength and conditioning coach will not be back this semester. Everyone on the team was upset when they heard this news – not because we knew our workouts were going to be exceptionally harder but because this particular coach offered so much more than only his strength and conditioning skills. He understood the rigors, stresses and frustrations of college athletics. He was an ear for anyone on our team who needed to vent. Unfortunately, this aspect of his presence cannot be replaced.
First Week Back
We have a little over a month to prepare for our first tournament at Virginia Tech. We are not allowed to "practice" yet because we are back to school a week before most of the teams in the Big East – apparently it would be an unfair advantage if we were to start this week. However, our coaches asked me and my co-captain to hold "captains' practices." They are by no means mandatory; however, we call them "mandatory-voluntary" practices.
Tuesday:
Today we are holding our first captains' practice. One of our players has decided not to come back this season. She was miserable on the team; we all knew that. There was no way I could persuade her out of her decision; her mind was already made up. And, honestly, what kind of person would persuade someone to be unhappy for another season? It just was not worth it.
Thursday:
We had our first meeting with Steve, our new strength and conditioning coach. It is going to be a long semester with his workouts. They are exceptionally hard. However, it seems that the team likes the workouts. We just are not prepared for workouts this hard, and we didn't even condition today.
Saturday:
We held the first practice with coaches today. Everyone is still extremely sore from Steve's lifting workout. We have a feeling this is how our bodies are going to feel for a while. The whole team is extremely tired, and practice will bring us to the point of exhaustion. For the next month we will be performing drill after drill after drill in order to prepare us for our season.
Second Week Back
There are not even words to describe how sore and rundown everyone is, even just after the first week of practice. Our coaches cannot hold us over four hours a day, and we reach that point almost every practice. Our schedule is as follows:
Monday: Lifting and conditioning
Tuesday: Practice
Wednesday: Our off day
Thursday: Lifting and practice
Friday: Lifting, conditioning and practice
Saturday: Practice
Sunday: Practice We have one day off a week, and Wednesday is not a very good day off for most of the team. Some of my teammates have class all day long, so a day of rest is completely out of the question. Our day off used to be Monday. I have a feeling I am going to wish that that was still the case because coming back from a tournament extremely late on Sunday night or early Monday morning, no one is going to be motivated for Steve's workouts. Our bodies our going to be too tired from playing four-plus games that weekend. We play doubleheaders in softball, which is why it is so exhausting. We normally play two games on Saturday then travel to play another school and play another two games on Sunday.
The virus that is going around campus has started to make it around the team. Players who have been throwing up for days have been told to practice. The germs then just spread like wildfire. Our team members are dropping like flies, and we only have three more weeks until we are supposed to board a bus to Virginia.
Third Week Back
We started hitting against our pitchers today. We did not do very well, but it was our first time since the fall, so it will only get better from there. Our infield practices are going really well. I would be comfortable putting our infield players out in a game right now. They are doing awesome. It is hard for outfielders to practice inside, but from what I have seen, we are doing well in that aspect of the game also. It is all going to come down to hitting and pitching this season – the two aspects of the game that have been our biggest struggles the past two seasons.
Another one of our players has decided not to come back this season. It is for personal reasons our coaches say, but we all know why another player has decided not to come back – the same reasons that the count is now up to five players who are not returning from last season. We now only have 18 players on our team, and only 17 who are healthy. We cannot afford injuries this season because we are going to need everyone in order to be successful this year. We have a few players who have the potential to be great and to lead us to the Big East tournament, but it is going to take a lot more than just skill and talent alone. This game is so mental and personal. It does not need to be this way, but that is how it has become in college. Every player on this team has had to learn how to play through head games and personal frustrations, and if my team realizes that and if we all stick together and play for each other, than we have the potential to climb out of the last-place ranking in the Big East.
Not many understand the pressures of college athletics until they can put themselves in this position. For many, it is a ticket into school – the only way that they can afford to attend college. For many, it was a way to continue playing the sport they loved. What many do not know is that college is a completely different level and turns into more of a job than a passion.