OHS sponsors volunteering and fundraising efforts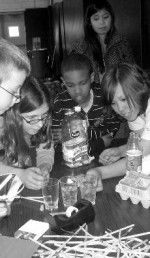 Villanova's Organization of Human Services will organize a variety of volunteer and fundraising events over the course of the spring semester, including programs to mentor at-risk children and collect prom dresses for girls in Philadelphia.
The Organization of Human Services is an on-campus service group designed to highlight and serve those students who are interested in human services and related fields, such as psychology and sociology. OHS has partnered with other groups, such as the Second Mile Program, in order to expand the human service field beyond Villanova's campus.
As the Southeastern regional site for Second Mile, OHS members and other Villanova students "friend" at-risk children from southeastern Pennsylvania once a month and serve as mentors. The Organization of Human Services is also currently working on building a service partnership with local schools in order to expand their services on a local level.
A second initiative by OHS involves the execution of a spring fundraiser known as the Fairy Godmother Project. The event involves the collection of gently used prom and formal dresses for girls in inner-city Philadelphia who do not have the means of buying their own.
The event will take run from March 10-27, and donations will be collected in Connelly Center.
The timing of the fundraiser, which takes place after Easter break, allows students to go home over the break and bring back any dresses that they are willing to donate.
Another service opportunity offered by OHS was the Korean Toy and Supply Drive in November, in which baby-related items were collected for the orphanage in South Korea.
OHS sponsors speakers from experts in the field. This past fall, Cheri Louvre, a crisis management specialist from Salem, Ore., spoke on "Lessons Learned from Crisis Situations." In March, OHS will present an Alumni Career panel for students interested in learning about some of the paths and careers of alumni of Villanova's human services department.