BNN: Previewing this year's Sweet 16 matchups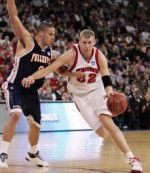 The quickness is what makes the NCAA Tournament so special. In four days the field loses 48 teams. In 18 minutes, Georgetown can go from comfortably ahead by 17 to out of the tournament. In 5.7 seconds, Drake goes from an incredible story that lives another day to the first victim in an unexpected run to the Sweet 16. Now, as we brace for another weekend of games, the field will shrink from 16 to four in the bat of an eye. However, in that short period, stories will be born that will live forever.
(1) North Carolina Tar Heels vs.
(4) Washington State Cougars
The Tar Heels have looked phenomenal as they became the first team in 18 years to top 100 points in each of the first two rounds. However, North Carolina will now face a strong defensive team in the Washington State Cougars. The Cougars are led by senior guards Derrick Low and Kyle Weaver. For Tony Bennett's team to win, his guards must slow the pace and force North Carolina to work hard to defend every possession. While an upset is not out of the question, Washington State must do what it did to Notre Dame's offense to win this one.
Pick: North Carolina 72, Wash. State 64
(2) Tennessee Volunteers vs.
(3) Louisville Cardinals
The second-seeded Volunteers have looked sloppy in the first two games of the tournament. They needed to play one of their better games to get by American and then almost relinquished a large lead to Butler before pulling away in overtime. The problem for Tennessee has been that its point guard play has been suspect, which has led to dysfunction in its half-court sets. In Louisville, Tennessee faces a team that offers a similar style with its full-court press and high scoring offense. The Cardinals have looked flawless in the first two rounds, and their tricky 2-3 zone defense should give the Volunteers fits in the Sweet 16.
Pick: Louisville 81, Tennessee 72
(1) Kansas Jayhawks vs.
(12) Villanova Wildcats
Bill Self's team made it to the Sweet 16 facing only a minor test from UNLV in the second round. Meanwhile, the Villanova Wildcats shocked many with their win over an impressive Clemson team and continued their run by beating the dangerous Siena Saints. The Jayhawks have more scorers and experience on their roster, but when it comes to Kansas in tournament time lately, even its best teams always seem to struggle. For Villanova to pull off the tournament's biggest upset, it will need to get off to a fast start. Everyone on the Kansas team is aware of their struggles in years' past, and if they fall behind by double digits early, they may begin to panic. While Villanova has a chance to knock off the Jayhawks, it is more likely we'll see the 'Cats making a run to the Elite Eight in the next few years than this weekend.
Pick: Kansas 74, Villanova 69
(3) Wisconsin Badgers vs.
(10) Davidson Wildcats
If you read The Villanovan back in mid-November, you would have seen a column detailing why the Davidson Wildcats would make a run deep into March. This team is not a Cinderella but rather one of the most balanced and talented teams in all of college basketball. Lost behind the phenomenal 35 points per tournament game for Stephen Curry is the stellar play of the nation's leader in assists, Jason Richards, and talented forward Andrew Lovedale. Their next opponent Wisconsin does not have the scoring to run away and hide against a talented team like Davidson, meaning that this game should be close throughout. In such an evenly matched game, you have to look to the team with the best player on the floor, and that is Davidson.
Pick: Davidson 68, Wisconsin 64
(1) Memphis Tigers vs.
(5) Michigan State Spartans
The Tigers free-throw shooting almost cost them a return to the Sweet 16, but they were able to make enough to hold off Mississippi State. The impressive part of the victory was that Memphis played one of its worst games all season and was still able to come away with a win. In the next round, Memphis finds a Michigan State team that was able to cool off the red-hot Pittsburgh Panthers. Who wins will come down to who wins the important point guard matchup between talented freshmen Derrick Rose and Kalin Lucas. Rose has been more consistent and explosive this year, and he will be the difference against the Spartans.
Pick: Memphis 74, Michigan State 64
(2) Texas Longhorns vs.
(3) Stanford Cardinal
Out of all of the Sweet 16 matchups, this could to prove to be the best. Both teams excel in the other team's weakness. Texas does not have the players inside to slow down the twins, Brook and Robin Lopez. On the flip side, Stanford lacks the talent on the perimeter to stop the quickness and scoring ability of guards D.J. Augustin and A.J. Abrams. While it may be a poor reason to pick a winner, the game being in Houston will have an advantage. Texas will be in a comfort level, playing in front of a home crowd, while Stanford will play its first big game all year off the Pacific Coast.
Pick: Texas 66, Stanford 63
(1) UCLA Bruins vs.
(12) Western Kentucky Hilltoppers
The Bruins have not looked too impressive in the last month. They have needed luck and favorable officiating to knock off Stanford, California and Texas A&M. Their luck will inevitably dry out, but it will not be here. Although Western Kentucky has two dynamic players in Courtney Lee and Tyrone Brazelton, the Hilltoppers are not talented enough defensively to pull off another upset. Kevin Love and company should provide enough scoring punch to carry the Bruins. UCLA should walk into the Elite Eight, where it will find its biggest test thus far.
Pick: UCLA 75, Western Kentucky 60
(3) Xavier Musketeers vs.
(7) West Virginia Mountaineers
What Xavier has shown in its first two come-from-behind wins is that the Musketeers may have the best chemistry in all of college basketball. It can be seen from the fluid style of play to the way they put their arms around each other's shoulders during timeouts. While West Virginia, led by its vastly underrated Head Coach Bob Huggins, should test Xavier, the Musketeers will advance to the Elite Eight behind the guard play of Drew Lavender and the inside prescence of Josh Duncan.
Pick: Xavier 76, West Virginia 68