Freshmen of the Year: Lauren Wuzzardo & Terence Thomas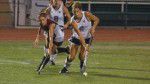 The Villanovan's Female and Male Freshman of the Year Awards go to two local students who have made their marks on their respective teams here at Villanova. For the women, field hockey player Laura Wuzzardo from Bridgeton, N.J., gets the honor. On the men's side, the award goes to Lawrenceville, N.J., native Terence Thomas, a linebacker on the football team. Both of these freshmen played in every game this season and proved that they belong in the collegiate-sports world by having outstanding rookie years.
Wuzzardo was not only the team leader in a number of categories for Villanova but was also on top in this season's Big East statistics. The freshman led the team in goals with 13, two of which were game winning; points with 30; and shots with 55 in the 18-game season. Her shot total put her in 10th place in the Big East, while her 3.06 shots per game earned ninth place in the conference. The 30 points she accumulated in the season allowed her to finish fourth in the Big East in this category, while her 1.67 points per game average was also good enough for a fourth-place finish. Along with her incredible season stats, Wuzzardo has a few honors to add to her list of accomplishments this year. Her outstanding play in her rookie season got her named to the Big East Second Team, the NFHCA Division I Mid-Atlantic Region Second Team and the womensfieldhockey.com '07 All-Rookie Squad. If this level of play continues, look for Wuzzardo to be at the top of the Big East in women's field hockey for the next few seasons.
Thomas played in all 11 games for the Wildcats and was among the team leaders in a number of statistics, finishing fourth on the team in overall defense. He completed his season with 25 solo tackles and 34 assists for a total of 59 total tackles this year. Thomas finished near the top of the 'Cats defense in both total tackles for a loss and total yards lost on the tackles, having 4.0 tackles for a total of 21 yards lost. His three sacks for a loss put him third on the team in this category, and the total of 19 yards on these make him the team member with the fourth-highest sack yardage. Not stopping with just tackles and sacks, Thomas also got his hands on the ball throughout the season. He finished his rookie year with one interception with a 2-yard return, one broken up pass, one fumble recovery and two forced fumbles. Teammates and fans alike look forward to seeing what Thomas will accomplish in his next three years as a Villanova football player.