MLAX: 'Cats make unimpressive debut against No. 9 'Cuse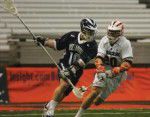 It was a rough Sunday afternoon at the Carrier Dome for the Wildcats, as the men's lacrosse team fell 21-6 against No. 9 Syracuse in both teams' season opener.
Senior Jay Foley gave the 'Cats some life in the game, scoring three goals and also providing one assist.
Foley's strong offensive game wasn't enough though, as Syracuse dominated with a 40-28 edge in shots on goal, with a blistering 25-12 margin in the first half. The Orange captured the first 10 goals in the first quarter and did not quit until the final whistle. Syracuse won 19 of 31 faceoffs, totaled 35 ground balls and was 4-7 when playing with a one-man advantage.
Villanova picked up 28 ground balls and was 2-for-8 on extra-man opportunities.
'Nova was able to find its way to the scoreboard after the first quarter with a pair of goals.
Junior Tim Driscoll found the net for two goals, and junior Tim Langan netted the final point for the Wildcats.
Junior Andrew Diloreto started in goal and tended the first three quarters, saving seven and giving up 18 points. Junior Mike Bogdanor took over in the fourth, earning one save and giving up three to the Orange.
'Nova is hoping to improve in the battle of the cats when the team takes on the Lafayette Leopards on Villanova's home turf, tomorrow at 4 p.m