Game of the Year: 9/07/07 – Men's Soccer vs. Duke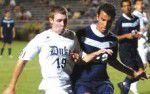 Entering the '07 season, the men's soccer team was often described with one word: potential. As the team prepared to face perennial ACC Powerhouse and No. 1-ranked Duke Blue Devils in the opening round of the annual Duke/Addidas Soccer Classic, the players and coaches viewed this as an opportunity to showcase their potential. Many experts gave Villanova a minimal chance of pulling off an upset against the top team in the nation, especially on the road. Despite the critics, Villanova's players and coaches never questioned their ability and shocked the soccer world, pulling off a historical and stunning 1-0 victory in front of a raucous Duke crowd and earning The Villanovan's Game of the Year ward.
In a season that was marked by tremendous ups and downs, Villanova's victory over Duke was the defining moment for this year's senior class, led by goaltender and All-Big East performer Jason Friel. After a disappointing defeat to Richmond University in their season opener, the 'Cats regrouped and executed an effective game to combat Duke's high-octane offense and stalwart defense.
Duke, led by seniors Michael Videiria and Mike Grella – Third- and Second-Team All-Americans, respectively – finished the season 11-8-1 overall and 4-3-1 in the conference. Although Duke earned its 21st-consecutive appearance in the NCAA tournament and reached the quarterfinal of the ACC tournament, the team failed to reach its lofty expectations.
Nevertheless, Villanova's victory over Duke is still remarkable considering that the Wildcat's victory was the first over an ACC opponent in school history. At the time, Duke was ranked No. 1 in College Soccer News and No. 2 by Soccer America and Soccer Times. The triumph over the Blue Devils marked the highest- ranked opponent ever defeated by Villanova.
The victory over Duke propelled the Wildcats into the final of the Duke/Addidas Classic, where they defeated their second ACC opponent, North Carolina State, to capture the tournament trophy.
Furthermore, Villanova's victory was a catalyst for the five-game winning streak that helped catapult the team into the Big East tournament for the first time since 2005.
"The Duke victory was a great team effort," former Head Coach Larry Sullivan said. "It showed we could compete against the big guy. We believed in each other and played together as a team. Our motto for the season has been 'stick together and stick to it.'"
After 17 years of coaching, Sullivan retired this season and recalled this victory as one of the memorable moments of his illustrious coaching career.