Baseball: Ellis pitches strong outing in win over Hartford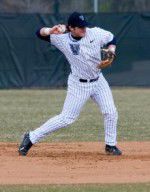 The Wildcats picked up a 2-1 victory against Hartford on March 7, propelling them to a 3-7 record. Senior Jordan Ellis carried the team with seven strong innings pitched, allowing only one run and six hits at the home opener at the Villanova Ballpark in Plymouth Meeting, Pa. Ellis advanced to 2-1 on the season; he struck out seven and lowered his ERA to under 2.00. Junior Josh Eidell took the mound in the eighth inning to close the game.
After allowing a double in the top of the second, Ellis settled in and retired 12 consecutive batters before surrendering a walk in the top of the sixth. Eidell earned his first win of the year with two shut-out innings following Ellis' strong performance. The Wildcats have won six straight games when Ellis and Eidell take the mound, dating back to last season.
The 'Cats won the game when junior Joe Rosati took home on a passed ball with sophomore Justin Bencsko at the plate.
Senior shortstop Derek Shunk brought home the game's only RBI when he brought in freshman third baseman Dain Hall on a double in the third.
In the second game of a doubleheader, 'Nova led 3-2 in the third inning when the game was rained out. The game will not be completed. — C.M.