Donohue addresses University Senate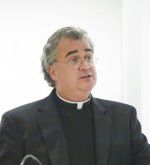 University President Rev. Peter Donohue, O.S.A., addressed the University Senate last Friday in an annual presentation that has become known as the "State of the University."
The address took place at the University Senate's November meeting, following a prayer of remembrance for all Villanova students, alumni, faculty and staff who have died in the past year.
Donohue began by acknowledging the service and academic achievements of the Villanova community in the past year.
Items mentioned included the revision of the St. Thomas of Villanova Day to include more service as well as the new initiatives, projects and high standings of all the University schools, along with the law school and Department of International Studies.
"I continue to take great pride in the widespread dedication of Villanovans everywhere responding to the needs of others," Donohue said.
Donohue commended the faculty for their dedication to teaching as well as research and noted that recently funds had been secured for offering annual new faculty awards.
In the past year, 80 awards totaling $8.5 million dollars were given from external sources to faculty for research.
These investments come to benefit the entire Villanova community, Donohue says.
"In fact I'm pleased to report that as of this morning, 'Transforming Minds and Hearts,' the campaign for Villanova, officially exceeded its $300 million goal," he said.
An initiative that began in 2001, "Transforming Minds and Hearts" has contributed funding to 13 faculty positions, student scholarships and funds, and construction of new buildings on campus.
In addition to the law school parking structure, the new athletic facility and the new buildings for the School of Nursing and the law school, Donohue noted possible future renovations of St. Mary's Hall and Garey Hall.
"These building initiatives are all part of an ongoing campus master plan, being managed by the consultants Venturi, Scott, Brown and Associates," Donohue said. "The plans, missions and goals are designed to do the following: to consider the needs of the entire University community; to make the campus more pedestrian friendly, accessible to people of all ages and abilities and welcoming to visitors; to identify opportunities to move the campus towards our commitment to carbon neutrality; and to carefully consider and create functional spaces that facilitate efficiency, collaboration and a greater sense of community."
Another major initiative Donohue mentioned was the President's Sustainability Committee for campus planning, set to take the place of Villanova Quality Improvement, a project that began in 1991 to address improvement of work processes and environmental concerns at Villanova.
"I am grateful for the contributions of VQI, and I acknowledge its contributions which have had significant impacts on the University community," he said. "However, it is time for VQI to move on."
Some VQI initiatives will continue, but others will be completely disbanded, Donohue said. He asks his new committee to explore and organize ways to give a better voice to University staff.
Donohue also addressed the issue of childcare for faculty and staff, saying how he recently accepted a new proposal for improved childcare benefits to be brought to the Board of Trustees next month.
University Information Technology was also commended for achievements including the new phone and e-mail systems implemented in the past year, smart classrooms, wireless capability expansion and the SGA Men's Basketball Lottery. Donohue also noted both UNIT and Department of Public Safety's involvement in the new emergency alert system, NOVAlert and recognized it's contribution to responding to the recent gun shots on campus.
Donohue mentioned this year's already record-holding admissions term, having received a 20 percent increase in Early Action applications and a 22 percent rate increase for regular decision candidates compared to this time last year.
While noting how this response is positive, Donohue also realizes the pressures increased applications put on all departments of the University.
Also mentioned was Villanova's graduate program enrollment – about 2,500 students (not including the law school) but down 3.4 percent since last year.
"As we move closer to taking a place in the national arena, it is important for us to grow the enrollment in our graduate programs," Donohue said, referring to the US News and World Report's continued ranking of Villanova as a regional Master's institution, rather than on a national scale.
Issues of diversity on campus were also discussed, noting increased multicultural diversity in all areas of the community, except in senior staff.
"Diversity is not just numbers," Donohue said. "It must be a community concern … In the coming weeks I will begin addressing both the concerns and the recommendations of senior leaders throughout campus."
Finally Donohue acknowledged how Villanova's current strategic plan only takes the University through 2010.
"It's important for the Villanova community to examine what we have accomplished and develop strategies to move forward," he said, noting how research has begun on utilizing a higher education consulting firm for future endeavors.
The end of the presentation included a showing of the new University commercial, set to be aired during the men's basketball season.
The commercial's theme is "the power of Villanova."
After the address, Donohue opened the floor to questions from the University Senate and any other member of the Villanova community; all were invited to the speech.
One question resulted in clarifications from Donohue on possible uses for St. Mary's Hall and Garey Hall as "swing spaces" when other areas of the campus will be renovated.
Future uses for such buildings on West Campus have also been an issue thought of by consulting firms, as it can be thought of as separated from the rest of the campus.
"The nursing program has been very isolated for a long time," Donahue said. "Do you really want to do that to somebody else [questions consulting firms]?"
Student enrollment was also of question, including the abilities of Villanova to deal with a growing undergraduate applicant pool and number of possible students.
University Senate member Rev. John Farrell, O.S.A., commented to Donahue on the possible need for more PhD candidates for the University's acceptance as a national institution.
Donohue recognized the need to address both issues in the future but also noted their vast financial and logistical concerns.
"More students demand more faculty, demand more staff, demand more facilities," Donohue said, although he realizes the opportunity for Villanova to "make our mark" with graduate programs.
All in all, Donohue's address was taken positively by the University Senate.
"The past 12 months have been very active for the Villanova community," Donohue said. "It has been a year of achievement, milestones, challenges and opportunities both on campus and in the places Villanovans have visited and served."
Full coverage of the inaugural address can be seen on VTV channel 17.