Human Rights Tour hits campus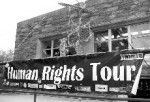 CAT hosted the traveling Human Rights Tour in the West Lounge of Dougherty Hall on Sept. 29.
The evening included a green symposium, a sweatshop-free fashion show and musical entertainment by several artists involved with the tour.
The collective activities, touted as a night of socially conscious events, were brought to campus by Juliya Lubin, director of CAT's Ideas and Issues Committee.
"It's basically a festival type event," she said. "It is supposed to last a few days, but with the Boys Like Girls concert, we decided to do just a day."
CAT tried to get the tour to come to campus last year but was unsuccessful due to timing issues, according to Lubin. This summer, she got in contact with the Human Rights Tour to find out more about the program.
"The more they told us, the more intrigued we were," she said.
The Human Rights Tour began at University of Connecticut with a group of individuals dedicated to raising awareness about the Universal Declaration of Human Rights, as outlined by the General Assembly of the United Nations in 1948.
The tour, now led by Executive Director John Corkery, was so successful that it went nationwide, visiting campuses around the country.
The evening began with a presentation by Jed Pearson on the environment, specifically addressing the effects of global warming on the climate.
He outlined global warming in terms of its causes – human, solar and greenhouse effects – and its uncertain future consequences on the earth. Pearson spoke of several distinct issues, such as arctic melting, carbon dioxide, general population increase and the United States' excessive energy use.
The presentation concluded with several suggestions for how to fight global warming, including fuel efficiency, the use of compact fluorescent light bulbs, supporting local farmers markets and riding bikes when possible.
Phil Czaja then spoke about Fair Trade, particularly as a solution to poverty and the aid system, which he said only prolongs the problem by promoting dependence rather than independence.
Fair-Trade products help impoverished farmers by purchasing their goods at a fair price, adhering to strict environmental and social standards toward sustainable land use.
Goods with the Fair Trade logo indicate that the farmer has been properly subsidized.
The last major event was a sweatshop-free fashion show, organized by tour member Sara Morajav.
Clothing was provided by No Sweat, which specializes in selling organic and non-organic apparel according to human rights-oriented standards.
"All of the clothing is sweatshop free, which means it was manufactured by companies that abide by Fair Labor Association standards," Morajav said.
The workers who create the clothing are paid fair wages, allowed decent working conditions and, most importantly, are supported by unions.
Students from the University served as models after a campus-wide casting call.
Singer-songwriters Tistrya Hamilton and Emma Weiss provided musical entertainment throughout the evening.
Bohemian funk band Blue Turtle Seduction served as the main musical attraction.
The music was mainly acoustic folk and blue-grass and provided a fun break between the educational talks.
Lubin said the Human Rights Tour was important for Villanova in light of the many changes in policy concerning environmentally sound practices on campus.
"The tour was a great thing to bring to campus because it does raise awareness but also is not a lecture," she said. "It is a fun way to get people involved while sending a good message."