Villanovans give peace a chance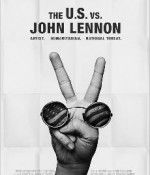 An on-campus group working for peace enlisted the help of deceased Beatle John Lennon to motivate students when it showed the documentary "The U.S. vs. John Lennon."
Villanovans for Peace hosted the viewing on Feb. 6 in the Connelly Cinema.
The film was chosen by the founders of the group, Vickey Garcia and Ashley Holmgren.
Garcia and Holmgren were inspired to start Villanovans for Peace after viewing the film that documents Lennon's transformation from a musician to a humanitarian and antiwar activist.
Lennon used his position as a celebrity to generate interest in the antiwar movement during the Vietnam era.
"By showing this movie, we hoped that students would become motivated like we were when we saw the film," Holmgren said. "John Lennon and Yoko [Ono] were able to use their powerful position in society in order to promote world peace through unconventional means."
One such way was by turning their honeymoon into a peaceful protest by staying in bed for its duration.
It was during this protest that Lennon wrote the antiwar anthem "Give Peace a Chance."
As Lennon became a leader in the protest movement, the government began to see him as an enemy.
The lyrics to his songs were seen as a driving force to the movement and caused government officials to write them down while at concerts.
Lennon said he felt he was constantly being watched and claimed his phones were tapped.
The documentary shows the battle Lennon had with the government.
It also explores how his resiliency allowed him to win in the end, even with the nation's attempts to have him deported.
He was a peaceful activist, and years after his death many people seeking peaceful means to end conflict still use his songs as inspiration.
Villanovans for Peace ended the film by handing out signs that read "Give Peace a Chance" to students who wanted to hang them up in their windows. They also allowed interested students to sign up for the group.
The group has several events coming up this semester.
Villanovans for Peace are planning an event for the fifth anniversary of the beginning of the war in Iraq on March 19.
Also, the annual Eyes Wide Open display will be placed around the Oreo on April 7. Boots will be lined up to represent the soldiers from Pennsylvania who have been killed in Iraq over the course of the war.
Villanovans for Peace also plans to hang up a sign on campus that informs students about the cost of war, in both human lives and dollars.
The group aims to promote awareness of the situation in Iraq among students, using Lennon's song title as its motto.
"John Lennon as an artist and responsible member of society didn't ignore the fact that the United States was in a war," Holmgren said. "Similarly, our group hopes to increase awareness on campus concerning the ongoing war in Iraq."