Two Students at the University Named Goldwater Scholars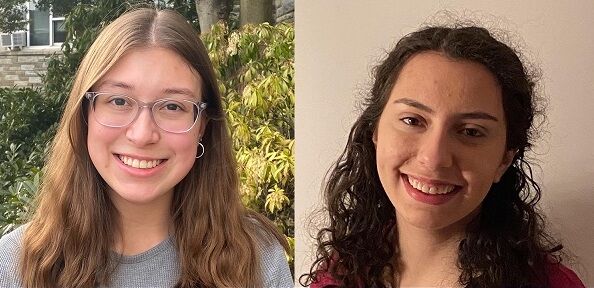 Lily Day and Catherine Petretti have been named 2021 Goldwater Scholars by the Barry Goldwater Scholarship and Excellence in Education Foundation. Both students are juniors studying in the University's College of Liberal Arts and Sciences. They were selected as scholars in a competitive pool of more than 1,200 institution-nominated students across the United States. 
The Goldwater Foundation awards scholarships to sophomores and juniors whose interests in research include natural sciences, mathematics or engineering. The $7,500 scholarships are widely considered a prestigious honor for undergraduate students researching within the STEM field. All recipients hope to utilize their research in their undergraduate studies and professional careers.    
The Barry Goldwater Scholarship and Excellence in Education Foundation was established by Congress in 1986 to honor Arizona Senator Barry Goldwater, who was a member of the United States Senate for 30 years. The scholarship works to encourage exceptional students to pursue careers in mathematics, the natural sciences and engineering.
Day is studying Biology with minors in Philosophy and Honors. Her focus is on ecology, and she has preliminary research experience in songbird hybridization. Day's work has encouraged her to further pursue research in her career. In her first year with the University, Day worked with Robert Curry, Ph.D., professor of Biology, to gain research experience. She was a part of the Match Research Program and studied the effect of hybridization on Pennsylvania chickadees. In addition to being a Goldwater Scholar, Day was awarded a Sprows Family Villanova Undergraduate Research Fellowship (VURF) in 2019. With the fellowship, Day was able to further her research with Curry. Her research has also been featured in "Veritas: Villanova Research Journal." 
After she graduates from the University next year, Day plans to attend a graduate program and further her research in molecular ecology. 
When Day is not researching or studying, she is a clarinetist in the University's band. She has also volunteered her time at a domestic violence shelter in Philadelphia as part of her Sophomore Service Learning Community. In the classroom, she is a teaching assistant in General Chemistry. 
Petretti is an Astronomy and Astrophysics major with minors in Mathematics and Classics. She plans to focus her studies and research in the areas of cosmology and particle astrophysics. Petretti, alongside Day, was also a Match Research Program grantee during her freshman year at the University. She worked with Joey Neilsen, Ph.D., assistant professor of Physics, and researched astrophysics. The group's research interpreted infrared data from black hole X-ray binary GRO J1655-40. Petretti continued the project into 2019. Continuing her impressive string of research, she received an NSF summer research fellowship at the MIT Haystack Observatory. 
Outside of her time researching, Petretti is a leader in the Astronomical Society and Physics Club. She also enjoys performing as a musician while playing the clarinet. The scholar also participates in the University's Student Musical Theatre and Symphonic Orchestra. She also is a teaching assistant in Physics and Astronomy. In her future career, Petretti hopes to be a mentor to others interested in her field of work and is pursuing a career as an astrophysics professor. 
"The continued selection of Villanovans as Goldwater Scholars highlights the commitment of our student-researchers, both in the lab and in the classroom," said University Provost Patrick G. Maggitti, Ph.D. "This renowned program has served as a critical springboard for the University's recent honorees, many of whom have gone on to excel in other prestigious, national scholarship programs. I congratulate Lily and Catherine on this honor and thank the Villanova faculty and staff who have helped them achieve their academic goals."
Recent Villanova Goldwater honorees went on to become Knight-Hennessy Scholars, Marshall Scholars, NSF Graduate Research Fellows and Fulbright Student Grant recipients.