Sigma Chi Announces Its First Chapter Sweetheart in Five Years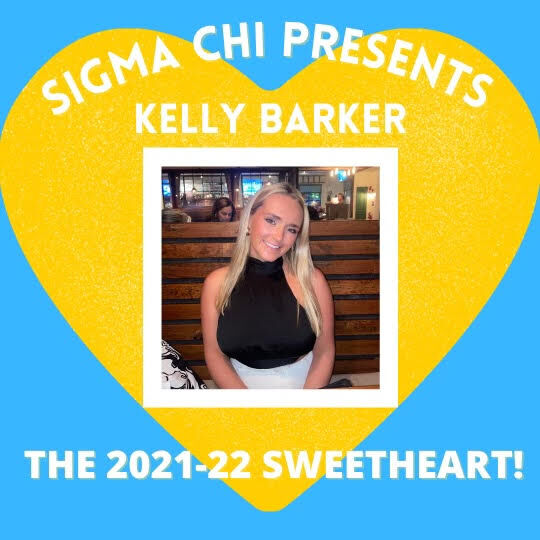 This semester, Villanova's Sigma Chi Chapter president, Matthew Sinnott, proposed bringing back the position of fraternity Sweetheart. The role has been vacant for five years, as the term of Cate Gormley, former Sigma Chi Sweetheart, ended in 2017. 
A fraternity Sweetheart is a female elected by the fraternity to be the female representative for the chapter. 
After Sinnott's proposal, the Sigma Chi brothers discussed the functions of the role and ultimately decided to move forward with the nomination process. Members were collectively confident that a Sweetheart would be a valuable and helpful addition to their fraternity. 
Thus, Kelly Barker was elected and officially registered as Villanova's Sigma Chi Sweetheart. Barker is a junior English major and member of Villanova's Chapter of the Kappa Kappa Gamma sorority. 
"I was very honored and excited when they asked me to be their Sweetheart," Barker said. "Everyone in Sigma Chi has been so nice." 
For the nomination process itself, Barker stated that the brothers were focused on finding a woman who shared the organization's guiding principles and morals. Another contributing factor was finding someone who they all knew and were friendly with. 
"They really thought about who the Chapter, as a whole, was connected with," Barker said. "Sigma Chi is really interested in their values as a fraternity so they considered someone who shared them. They knew I was interested because they had been talking about it for a while. Then they voted, and now I've been Sweetheart for almost an entire month already." 
Sweethearts have many responsibilities, including attending Chapter meetings, managing public relations for the fraternity and organizing events. Barker also shared that she has the unique ability to wear the fraternity's letters. 
"Essentially, I'm the one female representative of Sigma Chi," Barker said.
However, Barker expressed she is most looking forward to working on and participating in Sigma Chi's philanthropy outreach initiatives and functions. 
"I'm really excited to be involved with their philanthropy events," she said. "As Sweetheart, I can help get people to come to the events as well as run them. They have two events coming up for their national philanthropy raising money for the Huntsman Cancer Institute so I'm really excited to get involved with those."
Additionally, as an official representative of the Chapter, Barker has the unique opportunity to apply for an academic scholarship funded and approved by the fraternity's international leadership. 
The position of Sweetheart is highly valued by Sigma Chi as it has an international Sweetheart to represent the fraternity on a global level. This position is currently held by Shelbey Mecklenborg of University of Cincinnati. Mecklenborg was elected to the role for a term of three years, spanning from 2021 to 2023. Like Barker, Mecklenborg is also a member of Kappa Kappa Gamma, serving as the University of Cincinnati Chapter President. 
Despite such appreciation of Sweethearts, the University has not had one on campus for several years now. Barker shared her hopes to expand the Sweetheart network to other campus fraternities.
"I'm the only Sweetheart on campus right now," Barker said. "I believe other frats will be inspired to have a Sweetheart. If that energy catches on, other frats will want to follow in Sigma Chi's footsteps."