Athletics expands tailgating to Pike Lot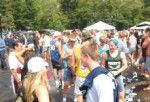 Villanova University Department of Athletics is allowing tailgating for single-game ticket holders this football season for the first time in more than fifteen years, according to Director of Athletics Vince Nicastro. Tailgating tickets will be available for purchase each game-day at the entrance of Pike Lot for $20 per car starting three hours prior to kickoff.
In previous years, tailgating was available solely for season-ticket holders in the parking lots behind Villanova Stadium.
Students, who receive free admission to football games with their WildCard, were consequently excluded from participating in pre-game tailgates. Saturday's home opener will mark the first time many students will have the opportunity to join the ritual.
"This decision was in large part due to the feedback we have received from fans over time," Nicastro said. "[The decision] is designed to accommodate Villanova football supporters who wish to enjoy some food, beverage and fellowship prior to our games."
Nicastro reminds students, however, that tailgating regulations will be strictly enforced – including University policies on alcohol.
"Underage drinking is illegal and can compromise the safety of our community," said Director of Public Safety Dave Tedjeske. "Public Safety officers will be actively looking for underage or excessive drinking and will involve Radnor to handle these types of incidents."
Public Safety will check identification upon request, Tedjeske said.
According to the Athletics' Web site, other tailgating regulations include bans on kegs, bottles and "funnels designed for drinking games."
While pre-game gatherings can start as early as three hours before kick-off, tailgating during the game is prohibited.
There will be no tailgating permitted after that time in the Pike Lot.
Nicastro notes that these rules were already in place before tailgating was extended beyond season-ticket holders.
Although tailgating is a common collegiate tradition, football Head Coach Andy Talley comments that tailgating at Villanova was previously limited due to its undeserving stigma.
"We have always looked at it here as tailgating means you are going to have people drunk," Talley said. "Not so. People want to come and tailgate and cook and have a couple beers and enjoy an opportunity to have fun with their family."
That does not mean that there will not be isolated incidents, according to Talley.
"There is always somebody who is a little out of control, so take care of it and do the best you can, but don't just wipe everything out," Talley said. "I think it can be handled extremely well. It is at other universities. If you go to any of the universities we play against, the tailgating is tremendous."
Students share similar sentiments as Talley, viewing widespread tailgating as a welcome and necessary change.
"We have had the chance to get hyped before basketball games, and now that our football team has gotten really good over the past few years, they deserve to have fans hyped in the same way," said senior Mike Sayers. "I'll definitely be there on Saturday."
Student Government Association has been echoing student opinion, urging for tailgating modifications since last semester, according to SGA President Dan Gelwicks. He included the possibility of expanded tailgating as part of his election platform.
"After we were elected, Athletics approached us and said it was something that was already being considered and from there it was more of a matter of logistics and planning," Gelwicks said. "Over the summer, the process became a lot of collaborating between SGA, Student Life, Athletics and other University offices."
Nicastro notes that SGA's role in the final decision was significant.
"Although the tailgating policy has been under review for several years now, SGA was certainly influential in bringing it to a decision," Nicastro said. "SGA is very active in trying to generate more student interest around a number of student events."
Following Saturday, the football team's next home game is during Parents' Weekend on Sept. 26, giving students the chance to have their families participate in the newly modified tradition.
According to Talley, the opportunity to enjoy oneself before the game is a chance to bring the community together.
"If you take a look around the country, what's happening in college football is it's a party," Talley said. "It's a tailgate. It's an opportunity to have fun."