Villanova Secures Limited Number of Vaccines for Faculty and Staff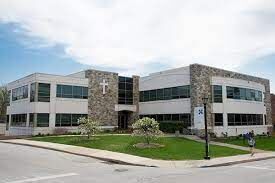 At about noon on Wednesday April 7, University students received an email stating that Villanova has been able to secure a limited number of vaccines through the Rite Aid pharmacy vaccination program.
"Vaccines will initially be available to faculty and staff on April 9 and April 16, prioritizing front-line areas not yet vaccinated," Vice President for Student Life, Kathleen J. Byrnes, said in the email. "We hope to be able to offer more vaccine opportunities to our larger community, including students, should more vaccines become available to us."
Byrnes explained that the University has applied to be a vaccine provider site for the community through the Pennsylvania Department of Health. However, they still do not know the timing or schedule of the receipt of vaccines.
She assured students that updates will come as new developments occur, and that "Villanova is continuing to pursue additional options for vaccines, whether through Rite Aid, the commonwealth or other options that emerge."
With more than 1,000 cumulative cases from the beginning of the semester, the University has struggled greatly with COVID-19. Although a substantial number of students has already been vaccinated, there are still many who want the vaccine but have not received it.
The Villanovan was able to speak with Byrnes on Wednesday afternoon to learn more about vaccine distribution. Byrnes explained that the University has received 600 shots of the first dose of the Moderna vaccine to be distributed on Friday, April 9 to the front line faculty and staff.
Byrnes clarified that the recipients are primarily faculty and staff that have been working in close contact with students, including public safety, facilities, dining hall staff, mail services and residence life. These staff members have the opportunity to register for a vaccine until 1 tomorrow. If there are extra doses left, the registration will be extended to other faculty and staff who are on campus.
"In March, we released a survey to all faculty and staff about if they were on campus and if they wanted the vaccine…we had a little over a thousand employees who said that they were interested in receiving the vaccine," Byrnes said. "But some of those people have already received their shots… so we will be giving people an opportunity to refill out that survey, so then we have a sense of how many people will be interested in the vaccines we're getting on the 16th, but we don't know what that number will be yet."
Byrnes explained that Dr. Mary E. McGonigle, Director of Villanova University Health Center, has been continuously talking to the state about getting vaccinations with no updates. Dr. McGonigle then started to call other places with vaccine programs, and the University was able to finalize a contract with Rite Aid early this morning.
"Rite Aid has worked with us for our flu clinic in the fall for the last few years, so we have a good relationship with them,"  Byrnes said. "She reached out to them about the vaccines, and all of a sudden we were able to have vaccines by the end of the week."
Recently, Notre Dame University has announced that it will be requiring students to be vaccinated before returning to school in the fall. When asked about Villanova's plans for the fall, Byrnes explained that it is still to be determined.
"The question is on the table, and we will be giving people ample notice once a decision is made," Byrnes said.
Although the vaccination plan for the rest of the University community is still unknown, Byrnes wants students to know that she is so grateful for all of their efforts to keep the community safe.
"Keep wearing your mask and keep social distancing," Byrnes reminded students. "We are continuing to enthusiastically pursue vaccination options, including for students. This isn't the end of the story, this is just the beginning of our vaccine story."