'Nova rolls into heart of schedule with top five matchup against undefeated Tribe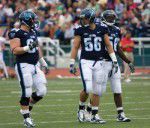 When Villanova snagged its No. 2 ranking four weeks ago with its win over Lehigh, it gained hype, recognition and expectations. However, since receiving that distinction, the Wildcats have lacked one pivotal aspect of having the No. 2 ranking – a chance to defend it. This Saturday, when they host No. 5 William & Mary, they will have that chance.
"They could be the most complete team we've played," said Head Coach Andy Talley. "They play very well as a compact football team. They are every bit as good as advertised."
The Tribe comes in to Saturday's contest with a résumé perhaps even more impressive than the Wildcats'. The first of their four wins in their perfect start to the season came against FBS opponent Virginia, 26-14. Most recently, they knocked off perennial CAA threat Delaware, 30-20.
The primary reason William & Mary has excelled is its balance between offense and defense. Against Virginia, the Tribe won with their defense, forcing seven turnovers. This past week, it was the team's offense that led the way, picking up 458 total yards.
The spark of that offensive attack has been senior quarterback R.J. Archer, the reigning CAA offensive player of the week after throwing for a career-high 313 yards and two touchdowns against Delaware. Overall, Archer has thrown for eight touchdowns this season, while completing 59.8. percent of his passes and totaling 194.8 passing yards per game.
The Tribe relies on Archer's accurate arm for an offense composed mostly of short, quick passes. Although the Wildcats sport the No. 1 ranked scoring defense in the conference (12.8 points per game), Talley still believes the team must change its defensive strategy to disrupt Archer.
"What we are going to have to do is changeup and disguise a lot of our defenses to try to give him some thought processes that are a little more difficult on the field," Talley said. "We can't just line up and show him what we are going to do. We have to try to confuse him."
However, Archer is not a one-dimensional quarterback. He also has the ability to make plays with his feet. His diverse skill set makes him the best quarterback Villanova has faced and could cause trouble for the Wildcats.
"He is very accurate, so he keeps drives alive with his arm," Talley said. "When you corral him, he takes off and runs, so he presents the same problem people have with Chris Whitney."
Despite the challenges that Archer and the Tribe present, the Wildcats enter the game coming off perhaps their strongest all-around game of the season, defeating Northeastern 56-7. After struggling against Penn, the offense appeared to hit its stride against the Huskies, racking up 552 yards, including 410 on the ground. With the offense now appearing in midseason form, the Wildcats seem to have hit their stride at the perfect time with away games at No. 6 New Hampshire and No. 7 James Madison following this Saturday's home game.
"We are where you want to be when you start to hit the heart of your schedule," Talley said. "Now we have both sides of the ball moving along pretty well."
Part of the team's recent offensive success has been attributed to the play of backup senior quarterback Antwon Young, who, along with Whitney, has given Villanova two dangerous players under center. Young, the team's former starter, has added another dimension to the Wildcat offense the past two games, throwing for 79 yards and two touchdowns, while also running for 71 yards and a touchdown on 12 carries.
Talley, who has kept Young fresh by giving him at least one series each game, sees many benefits from being able to switch between quarterbacks.
"Young changes the pace on you," Talley said. "You go from Chris Whitney, who can run and throw, but his real threat is as a runner, to Antwon Young, who can also run and throw, but can hurt you with his arm. I think it gives the defense a couple of tough things to look at."
Having Archer, Whitney and Young on the field Saturday means the spotlight will be on each team's defense to find a way to disrupt the rhythm of the opposing offense. With the Wildcats ranked No. 1 in the conference in scoring defense, and the Tribe ranked No. 1 in rush defense, it may prove to be a game where any mistake could determine the outcome.