Motion City Soundtrack to play tomorrow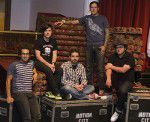 Motion City Soundtrack will headline Campus Activities Team's annual fall concert tomorrow in Jake Nevin Field House. Mae, Anberlin and Metro Station will serve as the opening bands.
Doors to Jake Nevin Field House will open along Lancaster Avenure at 7 p.m., and the show will begin at 8 p.m.
Tickets remain on sale both at the CAT office in Dougherty 108 and online on CAT's Web site for $10. Tickets will be sold at the door for $15. Will call sales will begin at 6 p.m.
The concert will be the culmination of almost a year's worth of planning.
CAT's Music Events Co-Coordinators Abbey Carr and Lauren Christman began preparing for tomorrow night's event during the spring of this year when they started receiving availability lists of tours in the area.
Sifting through all the possible bands, the two tried to find one that would fit the event.
"We try to find ones we feel suit the Villanova student population," Christman said.
Part of this search involves relying heavily on Facebook. Carr and Christman used favorite bands listed on students' Facebook pages to get a feel for what types of music and specific bands are popular on campus.
After narrowing the field of available bands down to five or six, Motion City Soundtrack was chosen, mainly due to its popularity according to Facebook.
"Out of our options that we went through, [Motion City Soundtrack] was the most popular," Christman said.
Carr and Christman, along with their advisers, conducted the preliminary work to sign the bands over the summer.
However, contract negotiations hit a snag in September. The representative from the William-Morris Agency, the firm that represents Motion City Soundtrack, who handled the initial contract negotiations was in fact unauthorized to do so.
Both this and the lack of agreement on the concert's terms of insurance and indemnification pushed back the contract's timeline.
Around mid-September, Web sites linked to each of the four bands began announcing the concert date, even though contracts had not been officially signed, adding to the already confusing situation.
At this point, there was a chance that the concert might have fallen through, according to Brandy Jericho-Beach, adviser for CAT.
Ultimately, contract negotiations were successful, and the contracts were finalized shortly after fall break, paving the way for tomorrow night's event.
"Even with everything that's occurred, we're really optimistic and excited about the show," Christman said.