'Nova's most dedicated student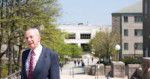 For many members of the Class of '08, it may feel as if they've been taking classes at Villanova forever. However, one student who will also be recognized at the upcoming commencement makes their four years seem like nothing.
For 19 years, Marvin Weiss has taken courses at Villanova, beginning his 'Nova career when members of this year's graduating class were still toddlers.
Closing in on his 90th birthday, Weiss fits right in on campus.
He walks past the Oreo, pointing out his favorite spots and waving to familiar faces. He speaks about his most memorable classes and professors.
"I could go on forever," he says. "Villanova's been so good to me."
And the University will continue this trend on May 18, when the political science department will present Weiss with a certificate to honor him for efforts at life-long learning.
Dr. Jeffrey Hahn, who has been the professor of several courses Weiss has taken, will present him with the certificate at the department's reception in the East Lounge of Dougherty Hall following commencement.
"Marvin was a model – he was just plain fun to have in class," Hahn says.
Weiss' family members will travel from places all across the country, converging at Villanova for the ceremony. With his family and colleagues around him, Weiss will celebrate a lifetime of stories, dedication and education that began nearly 90 years ago.
* * *
Raised in the local area, Weiss was born on Aug. 20, 1918, in Philadelphia. One of three siblings, Weiss remained in the vicinity throughout his childhood, graduating from West Philadelphia High in 1935.
Weiss then went on to attend Philadelphia Textile, which is now Philadelphia University. It was there that Weiss' dedication to learning first became apparent.
"It was a four-year course, but I went every day and made it in three years," Weiss said.
"It was the Depression, the times were tough and my brother was going to college too, so it was tough on my family," he says.
Around this time, Weiss met his wife, Helen, who he married in 1940. He and Helen had two children, Rachel and Philip, or "PJ," as Weiss calls him.
Weiss now has six grandchildren and six great-grandchildren.
After finishing up his studies at Philadelphia Textile, he worked in the textile industry for years. Starting in 1941, he was employed by Quartermaster, working in the lab and also overseeing several factories.
Weiss worked for various companies, remaining in the area for all but three years.
He accepted a job in South Carolina, but when their son became old enough to attend school, Weiss and his wife decided to move back home. They moved into a house in Drexel Hill, where Weiss lived up until last year.
Weiss went into business with his brother, working in a variety of fields. The two worked in real estate, along with owning a boutique shop and a beauty parlor, among other endeavors.
However, when Weiss' brother was diagnosed with cancer, he decided to retire. Weiss decided not to continue on without his brother, entering into retirement as well. However, Weiss insisted on staying active.
"When he wanted to retire, it was alright with me, but I said I wasn't going to be a couch potato," he says.
Enter Villanova University.
While arranging to play golf at the country club he belonged to on Mondays, Wednesdays and Fridays, Weiss decided to resume his education on Tuesdays and Thursdays.
At 70 years old, Weiss began taking courses at Villanova in the fall of 1988.
As part of the Senior Citizens Personal Enrichment Program, which is open to all area residents age 65 or older, Weiss was able to enroll in undergraduate courses free of charge.
"I first started with Bob Leclair in economics," Weiss says. "He was great. We got to know each other pretty well."
In addition to courses in economics, Weiss has taken classes in music, art, history and political science.
"I think I've used up all the courses," Weiss jokes.
One course that Weiss named as his favorite was Planet Earth with Dr. Frank Maloney and Dr. Philip Maurone.
"Those two were like a comedy team," Weiss says.
Reflecting back on his 19 years at Villanova, Weiss has nothing but positive things to say about the people he has met.
"Everybody's great around here," he says, prompting an endless number of stories about the kindness he has received.
He has cultivated friendship with both professors – mainly by eating lunch each Tuesday and Thursday in the faculty dining room in Dougherty Hall – and undergraduates in his classes, many of whom he's been sad to see move on after their years at 'Nova came to an end.
But now, Weiss' time on campus is also nearing a close.
After his wife died last August, Weiss decided he did not want to take any more courses.
"I became a house man," Weiss says, discussing how he took up the chores required to maintain his house in Drexel Hill. "I was just a housekeeper and a lousy one at that."
Weiss later decided to put his house on the market and now lives in East Norriton, Pa., just about 10 miles from campus.
"I had great classes here," Weiss says, but he realizes it's now time to celebrate his 19 years of exceptional dedication to education.
* * *
As members of the Class of '08 receive their diplomas, Weiss will receive a certificate of his own. And while Weiss may seem completely different from these graduates, he has much more in common than one might think.
In fact, when meeting Weiss, it's hard to believe he's actually 90 years old.
His cell phone rings, and he opens it up to realize it's his son calling.
"I have two great kids, but they drive me up the wall," Weiss says with his signature laugh and smile that have become fixtures on campus for the past 19 years.